Back
Nielsen – The Data Speaks for Itself
How do you create healthy virality? Why is it important to conduct pinpointed public opinion surveys? What does it take to translate a billboard into a virtual store? Answers to these questions can be found in cellular and technological applications developed in the Nielsen incubator in Caesarea. The incubator, the vision, and the role of big data in the world of algorithms and new media.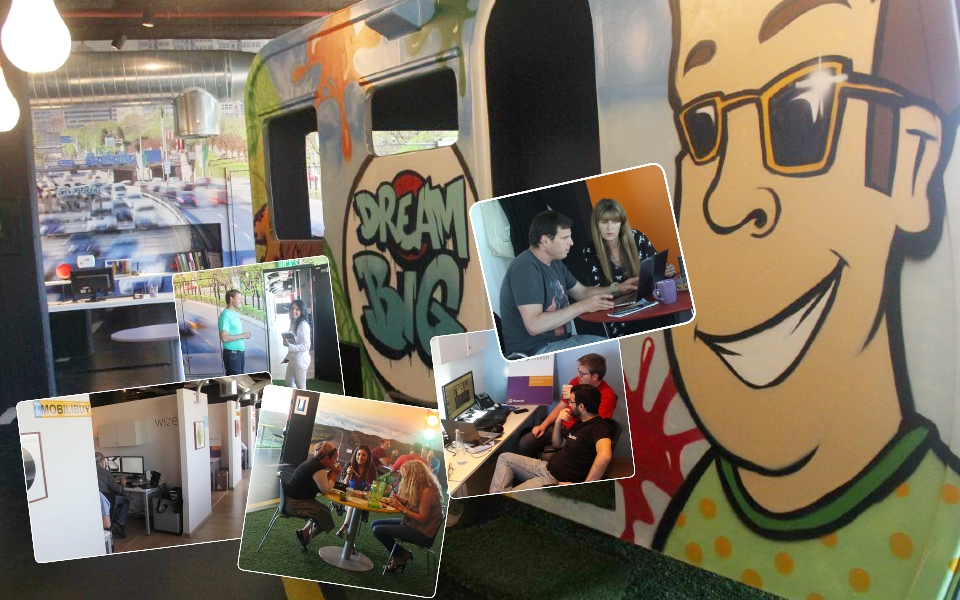 Any screen can become a virtual store – this is the core concept behind the Mobilibuy application. The application eliminates the need to visit a physical store by facilitating the on-the-spot purchase of any product spotted on a billboard or on a TV screen. "The platform is designed to make digital marketing accessible for retail companies in a simple, easy manner," explains Moti Levy, Founder and Chief Revenue Officer at Mobilibuy. "Our innovative technology allows companies to open dynamic, virtual stores via any media channel, on billboards, on TV screens, and on any other digital screen of their choosing.
"My partner Kobi Danon originally came up with the idea following a British retail experiment in South Korea. They opened virtual stores in train stations, where they posted print ads displaying products on shelves offering people an opportunity to scan and buy products like they would in a supermarket. We took this concept and adjusted it," continues Levy. "Mobilibuy allows people to use their phone to shop 'on the go' with the use of a scanner that adapts itself to a particular behavior pattern. We can take any advertising media, street sign, or TV screen, and turn it into a dynamic virtual store with products alternating in real time and we can offer this store to people. In this manner, walls become virtual stores in every sense of the word. Stores like these can be opened in hotels, offices, or gyms, and the compelling advantage is that products can alternate and adapt to the viewing audience in real time. For example, a single gym screen can advertise products targeting new mothers in the morning, while in the evening during kickboxing class, other products are advertised on the same screen. People can come to the gym, scan the product, and the product will be sent to their home. Currently, this service is only offered in the United States and not in Israel. We own the virtual stores in the States, and we physically sell the products and ship them to clients. For other stores, we only supply the technology and we don't manage inventory or shipping of purchased products.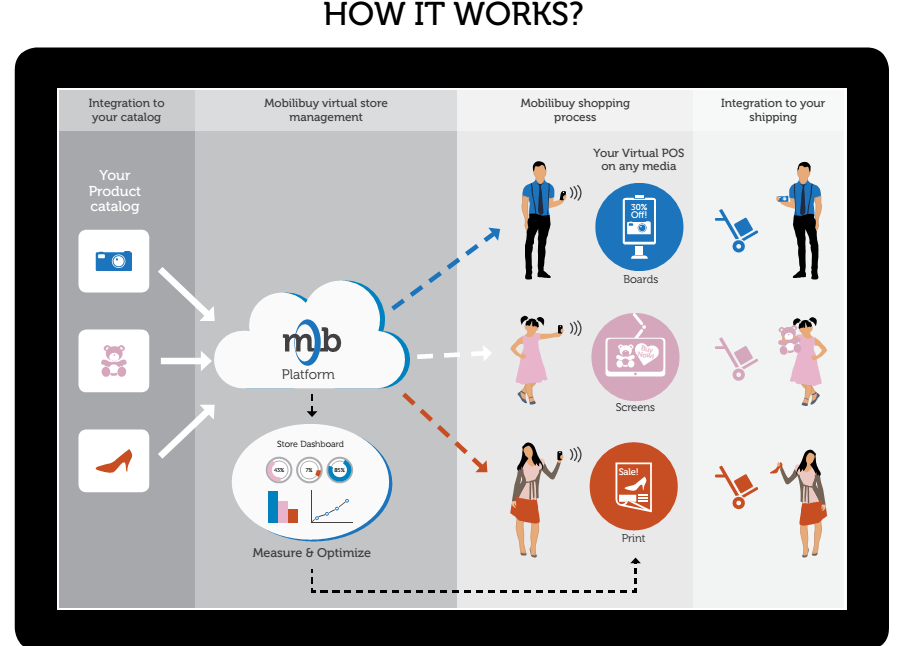 "We joined the Nielsen incubator in February 2014, and we're still continuing to develop. Nielsen is a brand name in the States, and the name helps us get our foot in the door overseas, even among companies that are reluctant to work with a small Israeli startup company. Also, when we mention that we have the backing of the Chief Scientist, we're greeted with enthusiasm because this stamp of legitimacy demonstrates that the Israeli government supports and funds our initiative," explains Levy.
In addition to backing by the OCS and the Nielsen incubator, the Mobilibuy application was named the 2014 winner of THE PITCH, an early startup contest at the IBM and EY Journey Conference, and raised an impressive 1.5 million dollars from Roman Abramovich's fund Millhouse Capital.
Added Value for Businesses and Users, for Nielsen and for Israel
Nielsen is an American information and measurement company that measures TV and internet ratings in the United States. Its activity in Israel focuses primarily on companies and businesses, and it provides them with marketing and retail chains' sales data. The need to advance and find new measuring and evaluation methods in parallel fields as well motivated Nielsen International to collaborate with entrepreneur Yigal Ahuvi's investment firm Partam High Tech. Together, both entities approached the OCS and through a competitive process, were granted the right to operate a technological incubator for hosting a range of young companies working on the analysis of consumer information and behavior, primarily on the internet, on mobile, and in new media.
"Like other incubator operators, Nielsen and Partam High Tech were selected by the OCS through a meticulous, competitive process. Chief Scientist Avi Hasson explains, "After choosing grantees, the state helps them promote and expose the incubators to potential partners and investors in Israel and across the globe. The incubators enjoy an international reputation and a great deal of prestige. Synergy with other companies creates productive collaborations and forms business connections to assist along the way."
"We aim to provide added value to Nielsen International in research and measuring, and to Nielsen clients as well," states Dov Yarkoni, the incubator's VP of Business Development. "In effect, Nielsen collects, analyzes, and processes data on consumer behavior, loyalty programs, and purchases and sales of commerce companies, and can suggest an action plan for the individual consumer. Currently, however, it is not suffice to measure data and to analyze information from TV or radio. Media channels are constantly becoming more sophisticated – IOT (Internet of Things), VR (Virtual Reality), and mobile. At the same time, new technologies are being developed that can refine processes and process information and data coming in from end companies such as Procter & Gamble, Coca Cola, and others. The innovation of these technologies can improve the service we offer Nielsen clients."
The Nielsen incubator is managed by Esther Barak-Landes, and in the two years since its inception, 11 seed-stage companies in various stages of development have joined the incubator. One of these companies is Zollo, a social location-based application for chain store price comparison performed by photographing and analyzing grocery shopping receipts. Zollo, currently situated in Tel Aviv, is already considered a mature company. The application is available in Israel, and will soon be launched in the United States as well. Zollo is a good example of an initiative whose technology can help Nielsen collect data from commercial companies and analyze data for them. At the same time, the application offers added value for the average user, who can use it to save money by comparing prices of products in nearby chains.
"Not only does incubator activity contribute to Nielsen as an incubator, it contributes to Israeli innovation as a whole," stresses Yarkoni. "Through Nielsen, startups enjoy a direct link to global industry, and through the OCS, companies receive support and funding. In this relationship, we act as guardians of the initiatives. We are responsible for company selection, and therefore we are also obligated to help them succeed. Of course, the Chief Scientist takes part in this process. We submit proposals, and he appoints assessors to either confirm or reject these proposals by reason of feasibility or lack of technological innovation considerations."
Anya Eldan, GM of Early Stage Companies and Technological Incubators at the OCS, points to Nielsen's notable contribution to companies operating in the incubator. "The multinational company's experience and ties facilitate the entry of companies into global industry at early stages, feedback from potential clients, and pilots among Nielsen clients. This contribution is critical for the companies' potential success at the conclusion of the incubator period, and is even more significant when facing future fundraising," she describes.
"Our measure of success varies between our different initiatives based on their status when entering the incubator. Some companies have approached us with an innovative concept and presentation, and others have approached us with a ready product on hand. At the end of the day, as far as we're concerned, what's important is that the initiative matures and reaches the point where it can step out to the public and reach its future fundraising goals," states Yarkoni. "After this stage, companies are free to do as they please. Nielsen has no hold on them or on their activities."
Revolutionary Technologies between Haifa and Tel Aviv
"We invest in anything that is of interest to Nielsen – new developing media channels, revolutionary technologies for data and big data analysis, new methods in market research, and advertising technologies," explains Yarkoni. "Our role at the incubator is twofold. On the one hand, we keep our eyes open, we seek companies that suit our incubator, we decide what and who to invest in, and we determine compatibility to Nielsen's philosophy. On the other hand, our role is to nurture all aspects of companies working here – from advocating technology and product development to marketing, sales, business development, and organizational development and fundraising. We work in full collaboration and are updated weekly on the progress of all our initiatives.
"We won the competitive process in the Haifa district," he clarifies, "but since most activity in our field takes place in Tel Aviv, we felt it was appropriate to be situated mid-way between Haifa and Tel Aviv, in Caesarea. At first, it was difficult to attract new companies to this location despite its strategic position and its nearby train station, but now things have changed, and there are quite a few companies who want to join us. We offer a spectacular view, an impressive building with high tech design, and a pleasant work environment. At lunchtime, the central space is transformed into a dining area, and sometimes in the evenings there are parties or lectures held by mentors. We host groups of businesspeople, executives from multinational firms, and investors from the United States, Singapore, Australia, China, India, Europe, and South America."
Companies currently operating under Nielsen's umbrella include the following initiatives: Revuze – an ecommerce system that automatically analyses surfers' product reviews; VocaVu – a voice recognition system for smart transcription of radio broadcasting; vBrand – offering surfers in-video content recommendations; ciValue – a platform analyzing consumers' shopping baskets and providing marketing information for retailers and consumers; EVOLITA – an internet service allowing users to research business topics as needed by automatically collecting information from various reliable sources; Furious – a platform managing TV broadcasts and advertising content in various social networks; and AdStrix – an advertising platform for local print media in the United States.
"Our incubator model is considered a great success. We're 'pioneers' according to the Chief Scientist, who chose to co-establish an incubator with an international company," summarizes Yarkoni.
A Significant Opportunity to Implement an Innovative Concept
TapReason is the Nielsen incubator's youngest company. The company is developing a platform for the automatic optimization of organic distribution to mobile applications. "This application connects to existing applications and encourages users to rate and share them in order to promote their use and to help them go viral," explains Co-Founder and CEO Nimrod Elias. The idea stemmed from our personal needs and from our partners' needs. The three of us have known each other for quite some time, and two and a half years ago we collaborated to work on a startup of our own. When we painstakingly terminated the previous initiative, we understood that we weren't the only ones who found it difficult to persuade users to promote applications. The entire cellular developer market is in the same boat. Therefore, we decided to develop a platform to contend with this challenge.
"When we developed the concept and the product, we studied the market and realized that we would be focusing on a specific aspect of virality – encouraging users to share the application. Our platform studies the needs of application users, whether these are large companies or single developers. It understands what channels it wishes to use for sharing – Facebook, WhatsApp, Twitter – and what messages it wishes to share – interface color, visibility, etc. The application can remotely control all of these elements. However, the focal point is the smart machine that takes information we receive from the application and analyzes the behavior of its users – their location, the nature of their activity, and what they're clicking. We use this information to establish a set of rules that the platform utilizes to suggest when to ask the user to share the application – after the second article? On Twitter or on WhatsApp? In Hebrew or in English? And it doesn't end there. We measure what happened, we add a suitable message with a link, and we examine if all these steps succeeded in causing users' friends to enter and download the application.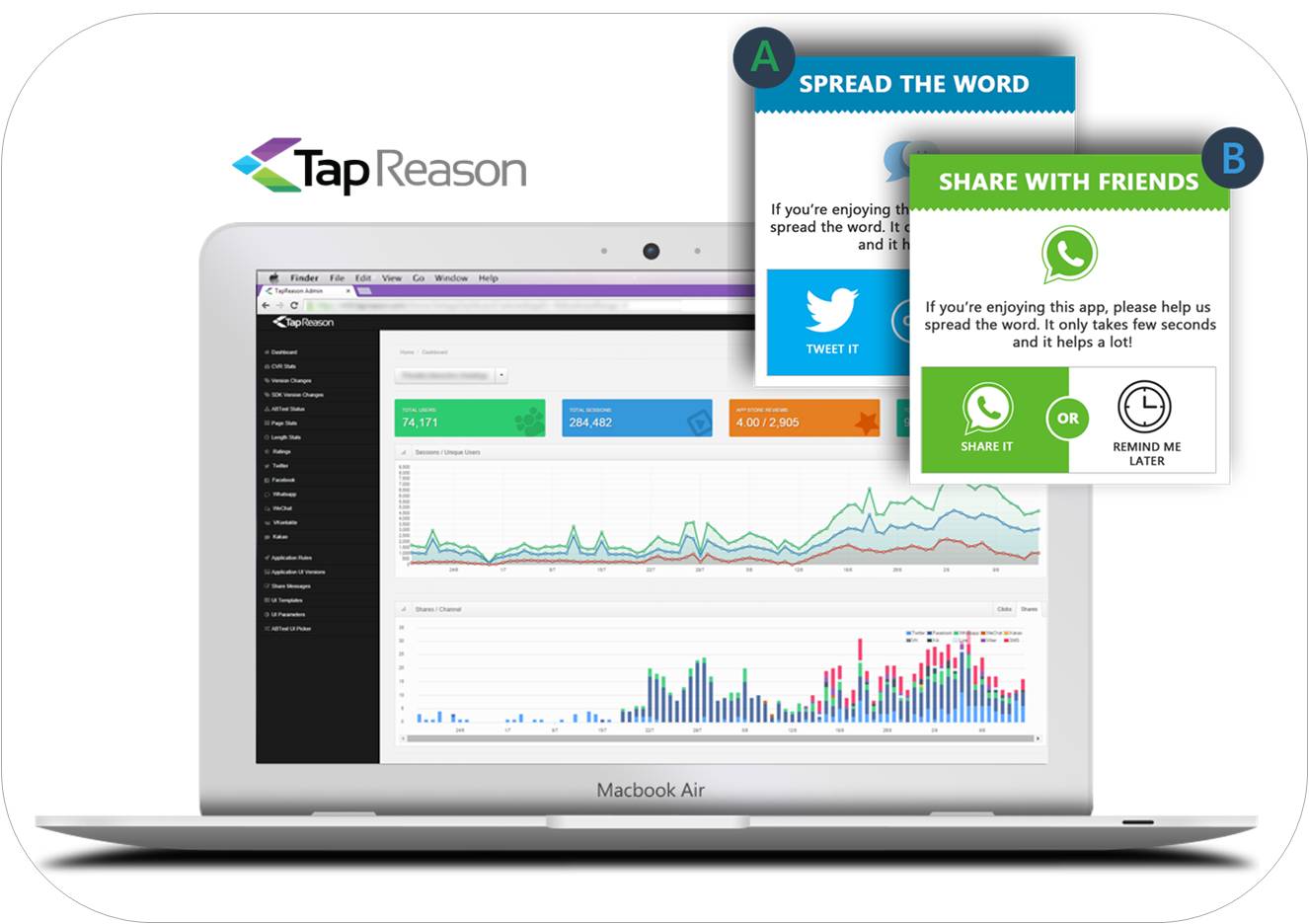 "We're currently working with the beta version of the product and are moving towards launching the application on the ground. We approached Nielsen after 'maturing' at Microsoft, but Nielsen is important as a strategic entity that recognizes the significance of the data. I believe that large companies understand that the future is in mobile, and we want to be with them when it happens. The Chief Scientist has supported us and has provided us with a substantial opportunity to implement an innovative concept, and has afforded us a multi-resource environment to help us take on this challenge," summarizes Elias.
An Individually-Adapted Automatic Research Institute
Like TapReason, the online market research system developed by Wizer studies clients' user habits, but for entirely different reasons. "We joined the Nielsen incubator about a year ago, and we've built a completely automated internet research institute," explains CEO and Founder Alon Ravid. "All of our backgrounds, both in Israel and overseas, are primarily in providing services and in developing advanced technologies in the field of poll directed research. Over the years, we've learned that while this is an important strategic tool in ongoing business management, most businesses cannot afford market research due to its high cost. We've discovered that even in large organizations with big budgets, when expenses need to be cut the research budget is the first to go, and this is a shame. Any business that hopes to run smoothly must conduct research to examine the brand's status, its status with competitors, customer satisfaction, cost sensitivity, advertising effectiveness, and more. It is also important for business owners to listen to their loyalty club members – to ascertain what it is that they like and want."
This need is met by Wizer, who is developing an automatic online research system that allows business owners to conduct market research and professional public opinion polls without intervention and without the need for any prior knowledge. The system conducts every research step automatically, from building a task-oriented questionnaire to the management and control of data collection, to producing reports on polling data including business insights.
"Wizer's guiding principles are very simple," explains Ravid. "Every function in the organization with zero knowledge or experience in the field should be able to automatically receive professional research institute quality answers from the system at a worthwhile, justified cost. In order to face this technological challenge, we must gather the world of knowledge, research methods, our understanding, and a variety of business relevant questions – and consolidate it all into a system of algorithms.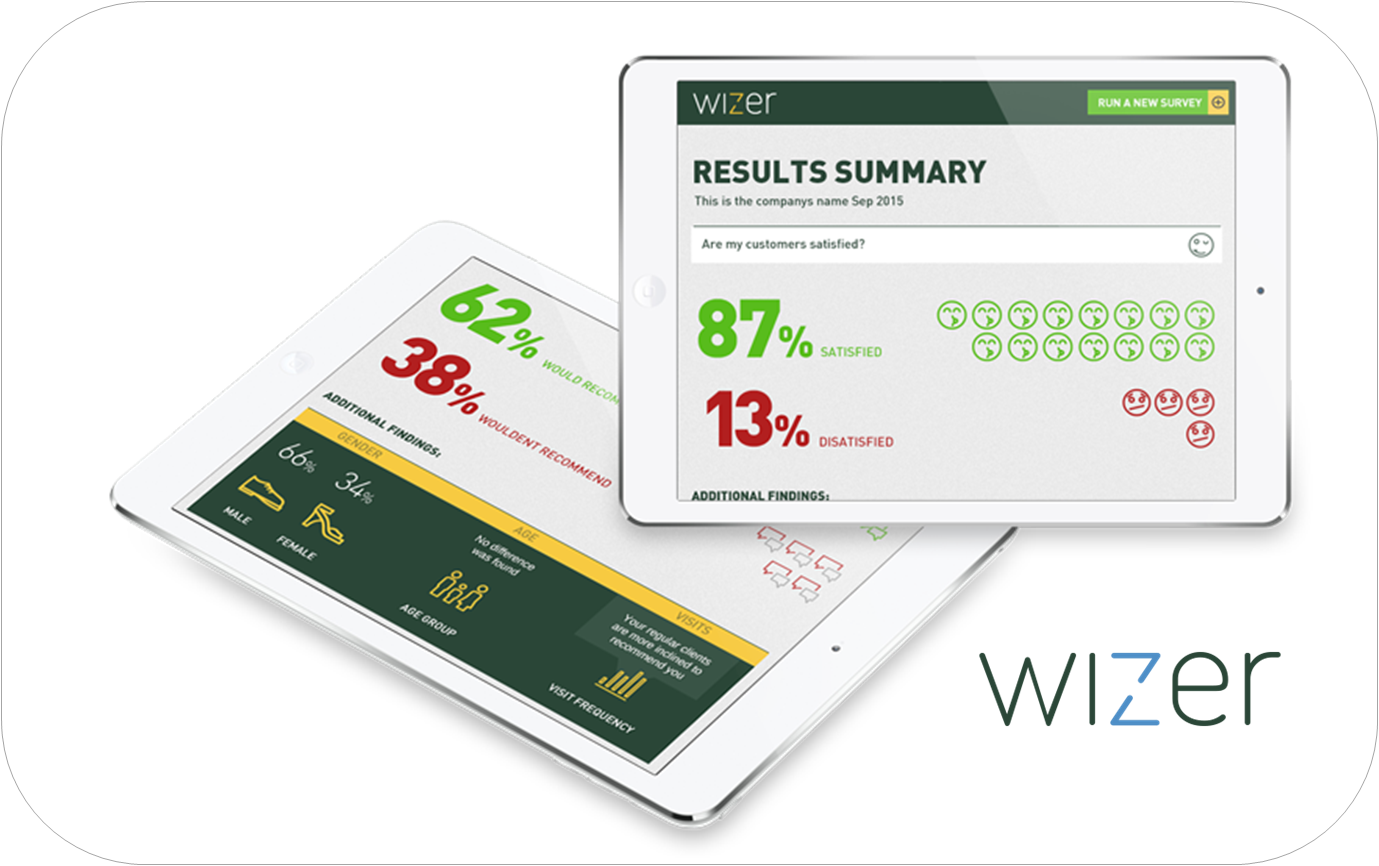 "Our philosophy is to bring a player to the market that changes the rules of the game – an available, accessible work tool that a department manager or a brand can approve without undergoing the tedious process of acquisition proposal and proposal acceptance. The information coming in through this tool will also alter the manner in which decisions are made by the organizations using it. We saw this in the pilot we conducted with our clients who we employed for developing the wizard. The system studies the client, proposes test questions, and even words these questions accordingly so that findings are of a high standard. In effect, within about ten minutes, clients receive an online, target-oriented research questionnaire tailored and adapted to their needs. Even collected information analysis is monitored and is ultimately delivered in a format that is easy to present. At a reasonable, worthwhile cost, the client gains access to a decision supporting tool.
"We feel that our activity and the Chief Scientist's backing have a significant advantage in the Nielsen incubator. On a strategic level – the involvement of the number one player in the field of research and assessment, Nielsen, can open many doors for us. In addition, work within the incubator directs us to focus on the product's core and development and not on its surrounding distractions, and this is advantageous. As far as the Chief Scientist is concerned, we feel that we have a sympathetic ear for requests and adjustments resulting from the nature of our industry, and we know that under certain circumstances, we can secure future investments as well. As a whole, thanks to the incubator, we're constantly meeting new people, and this interaction is very productive," summarizes Ravid.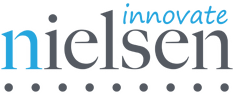 Stockholders: Nielsen Media Research and Partam High Tech
Fields of investment: Internet, mobile, and new media
Incubator Manager: Esther Barak-Landes
Address: Caesarea Industrial Zone
Phone number: 972-72-2700790
Email: info@nif.co.il
Website: http://www.nif.co.il