Back
Does it suit you?
Not only does the Office of the Chief Scientist (OCS) support the research and development of new products, it also supports adaptation of existing products to target audiences in emerging markets in China, India and Brazil. Integral's social business network in China and the IntuView text analysis system in India demonstrate that proper support is no less important than actual product development
While a significant segment of business owners consider China a place from which merchandise can be imported, Orly Shefa, CEO and Founder at Integral ERP, has different plans – to promote sales within China itself. Integral is an Israeli software company specializing in the management of small and medium enterprises (SMEs). It has been an active player in China for over a decade. "After being contacted by a Chinese company, we developed a system for China at the time and we implemented it in Chinese factories. The Integral software is the basis of the innovative SUNANAN product that we are adapting for developing China, where there are over sixty million SMEs," says Shefa.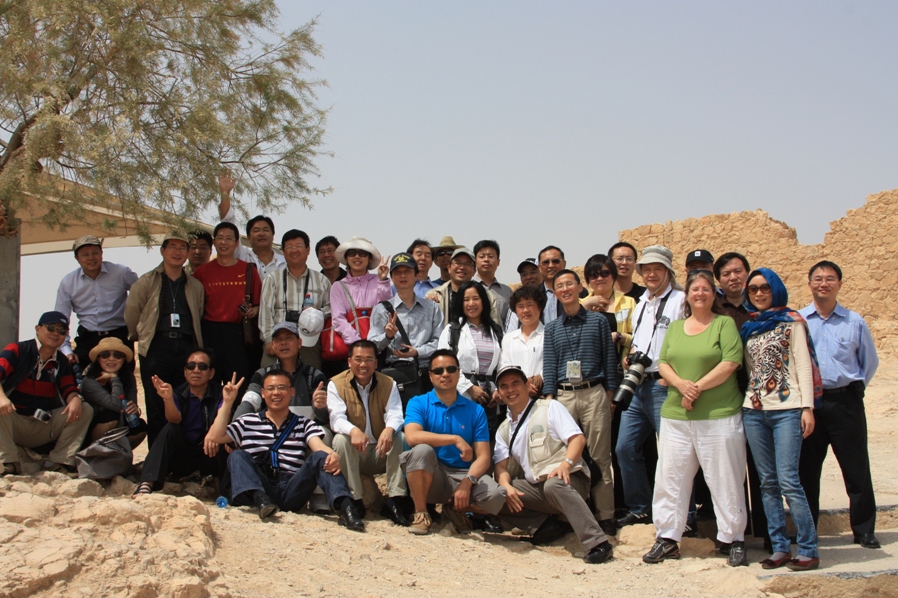 Pictured: A delegation of 36 hi-tech executives and software houses from China and Asia during their visit to Masada, Israel. Pictured right: Orly Shefa, Israeli representative at Asia's software house forum for the past seven years.
"In light of accelerated technological development in China and of our business relations with the country, we have decided to make a significant change to our software in order to adapt it to China. We have the support of the Chief Scientist for the development of a unique business social network that primarily provides managerial solutions, and not only informative solutions. We take part of our existing software, we develop a system on the cloud, and we adapt it to suit the Chinese market. In China, for example, there is no Facebook or Whatsapp. Thanks to one of China's most prominent, leading partner companies, we are familiar with Chinese requirements, we recognize obstacles, and we know how to design our system accordingly. With the aid of this Chinese partner company, we will run and distribute the system, and we will provide service and support in China and in Chinese."
"The support of the Chief Scientist provided us with an excellent basis allowing us to address investors," explains Shefa. "It is also considered a real advantage in China that an Israeli government entity is backing the project. Due to our Chinese partners' relationships, we are guaranteed several million first clients in advance, and access to a particularly broad market. The plan is that within five years, our system will provide a managerial response to ten million companies in China. The project is conducted while adapting the content and the software interface to local language and design requirements. At the same time, it is conducted while developing the search engine for electronic commerce and creating an optimal environment for Chinese users. In a few months, the preliminary version will be released, and later on the system will also be adapted to the Chinese agenda which includes a large deal of communication, tremendous distances, and long commutes. It will afford an opportunity to work while driving or while taking the train, with the use of a cell phone or a tablet.
"I would like to thank the Israeli Industry Center for Research and Development (MATIMOP) staff for their support, compliance and understanding. It is my hope that many other companies join the Chief Scientist's support track," summarizes Shefa.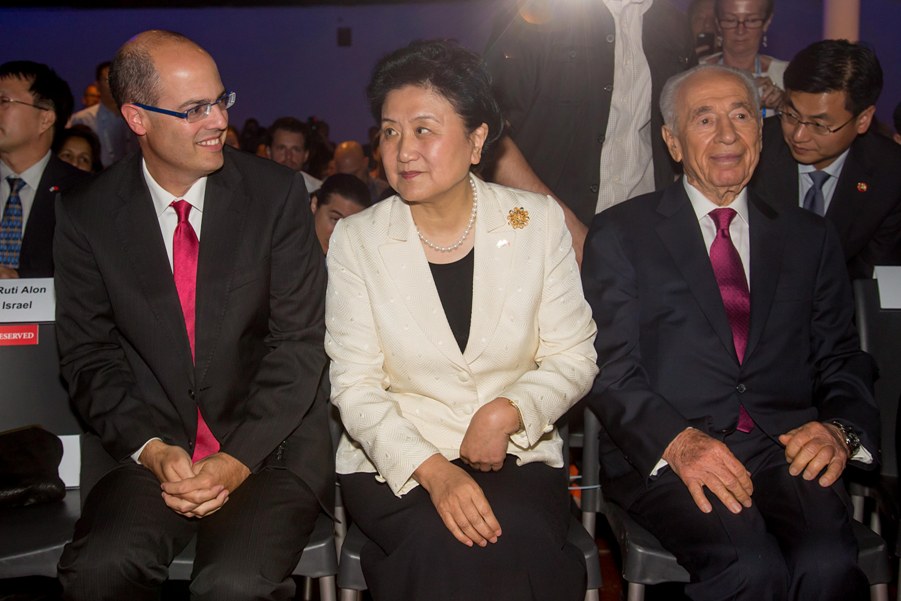 Pictured top: Shimon Peres, Former President of Israel; Chief Scientist Avi Hasson and Mrs. Liu Yandong, China's Deputy Prime Minister. Pictured bottom: At the signature event with the Chinese. Photos: Zvika Goldstein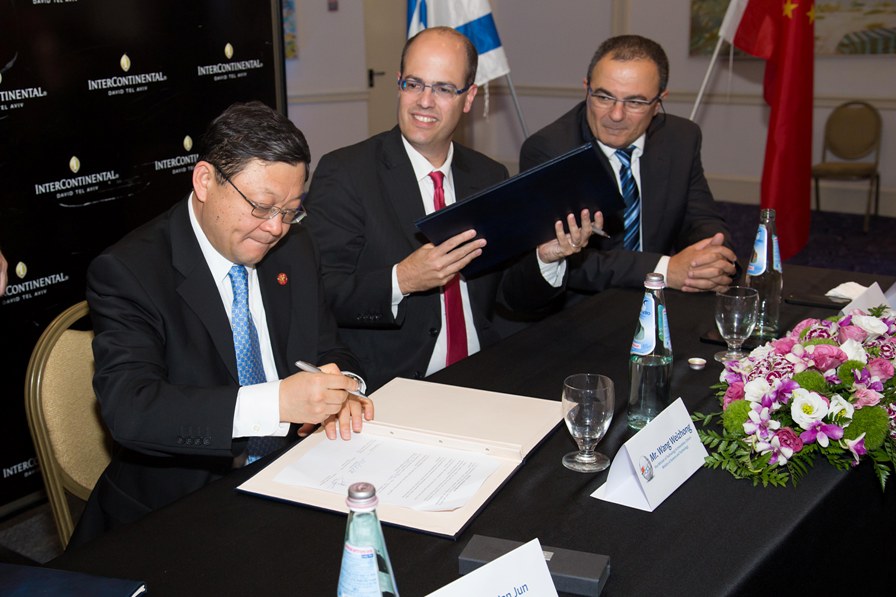 Personally adapted products
In order to maximize aid provided to Israeli companies entering foreign markets, not only is it necessary to support classic product R&D characterized by high technological innovation, but it is also crucial to help adapt these products to various target audiences. Accordingly, this year the OCS launched the product adaptation track. The track supports Israeli companies such as Integral, who seek to adapt their products to international markets in target countries as determined by the Ministry of Economy: China, India and Brazil.
"The idea behind launching the track for the adaptation of products for Chinese, Indian and Brazilian markets is the enrichment of the network of assistance tools offered by the OCS to entrepreneurs and Israeli companies, so that they can operate in a more accurate, focused manner opposite these huge markets," explains Merav Tapiero, Program Manager of the China-Israel Industrial R&D Cooperation at MATIMOP, the entity that implements international R&D collaboration at the OCS. "One of the most prominent obstacles in accelerating cooperation with these target countries stems from the fact that currently, Israeli companies develop products whose primary target audience is western markets. Since in several instances, market requirements in these countries differ from those of western markets, at times there is a need for a product adaptation process. We research and study this issue and without a doubt, the process of adapting products for these markets is one of the keys to increasing collaboration and commerce with these important target countries."
In the adaptation process, the Israeli company makes various changes to its products so that they suit the market being addressed. This adaptation can be seen in structural changes impacting the product's functionality and interface, language adaptations, standardization changes suited to regulations in the target country, etc. Product adaptation can also be conducted as a result of unique cultural values and aspects, adaptation to a different climate, and more.
At times, the objective of adaptation is to lower the cost of the product in the target country, therefore increasing the need to waive some product functions and/or to add other functions. For example, a medical equipment system to be used by regional doctors treating rural populations provides the possibility to run basic tests performed in an established clinic. In addition, however, the system must include communication interfaces and an information network in order to retain and gather information for patient follow-up.
With or without a local partner
"Product adaptation can be conducted with or without the help of a local partner from the target country, and with or without direct funding support to that partner. A local partner can assist in increasing the chances of product commercialization success due to their familiarization with the local market, in providing a precise characterization of the required adaptation, in understanding the required local regulations, in conducting a pilot of the product, and more," explains Tapiero. "If applying with a partner that is interested in getting direct funding from its government, support is requested through the bi-national program during open calls for proposals, released once or twice a year."
The submission of proposals for the product adaptation track and product evaluation are performed according to Chief Scientist regulations.
Companies interested in developing and marketing products for China, India and Brazil need to turn to program managers in the Asia Pacific and Latin America departments of MATIMOP, in order to understand the options for applying.
"In the Israel-China program, a great deal effort is made to aid in locating local partners, in both assisting parallel entities in various Chinese provinces, and through complementary activities," emphasizes Tapiero, "such as B2B meetings between Israeli and Chinese companies, investment entities, road show companies and more, in order to create additional collaboration opportunities."
How many programs currently operate with China and India?
"The Chinese desk at MATIMOP currently operates six bi-national collaboration programs with select provinces in China – Jiangsu, Shandong, Guangdong, and the cities of Shanghai and Shenzhen. In addition to these, there is a federal program for collaboration initiatives with companies throughout China signed by the Ministry of Science and Technology of the People's Republic of China (MOST). Throughout 2015, additional programs will be implemented with Hong Kong and with the province of Zhejiang. In the meantime, it is important to note that not all collaboration tracks with China include the possibility to submit product adaptation projects, and this should be examined prior to submitting the request.
"The India-Israel Initiative for Industrial R&D offers two collaboration tracks: I4RD – the federal India-Israel initiative advancing collaboration between Israeli companies and companies throughout India, for the development of products and innovative processes for commercialization in the global market; and KIRD – the Karnataka Israel program for collaboration in industrial R&D – a program for monetary support of collaboration between Israeli companies and Karnataka companies, allowing proposals of product adaptation. In addition, as discussed, requests for support can be submitted directly to the Chief Scientist for adapting products to the Indian market," explains Tapiero.
Text analysis in India
IntuView is an Israeli company that submitted a project proposal under the India-Israel Initiative for Industrial R&D in the product adaptation track, after having made the strategic decision to enter the Indian market. The company develops artificial intelligence technology combining an innovative ontological method with tools for processing natural language, through a system called IntuScan. In other words, IntuScan is text analytics software for the analysis of any type of text covering all types of content, whether it be related to engineering, law, sports, etc.
"The software conducts a series of actions imitating the processes of the human reader: morphological analysis of words, attributing words to sayings, understanding sentences according to the syntactic role of the words they contain, and adding a layer of meaning from the reader's general knowledge. In this manner, different meanings can be extracted from the text," describes Shmuel Bar, Founder and CEO at IntuView. "Through text, we can deduce the field, the region or country it relates to, the writer's political inclination, and more. For example, the style of engineers or jurists, as well as the meaning of their words and sayings, is different than text uttered by Al-Qaeda sympathizers or people with communist views. As soon as the writer's background and the field of the text are identified, it is easier for the system – as is the case with a regular person – to ascertain the meaning of the words and sayings from a range of possible meanings. The system also knows how to extract alluded information from names such as gender, ethnic background, and more. The software is critical in the field of security, during passport control at airports for example, or for banks' inspection of problematic double accounts. Currently, the software is supported in Arabic, English, Spanish, French, Urdu, and Indonesian Bahasa, and is in development stages in Russian, Persian and Hebrew.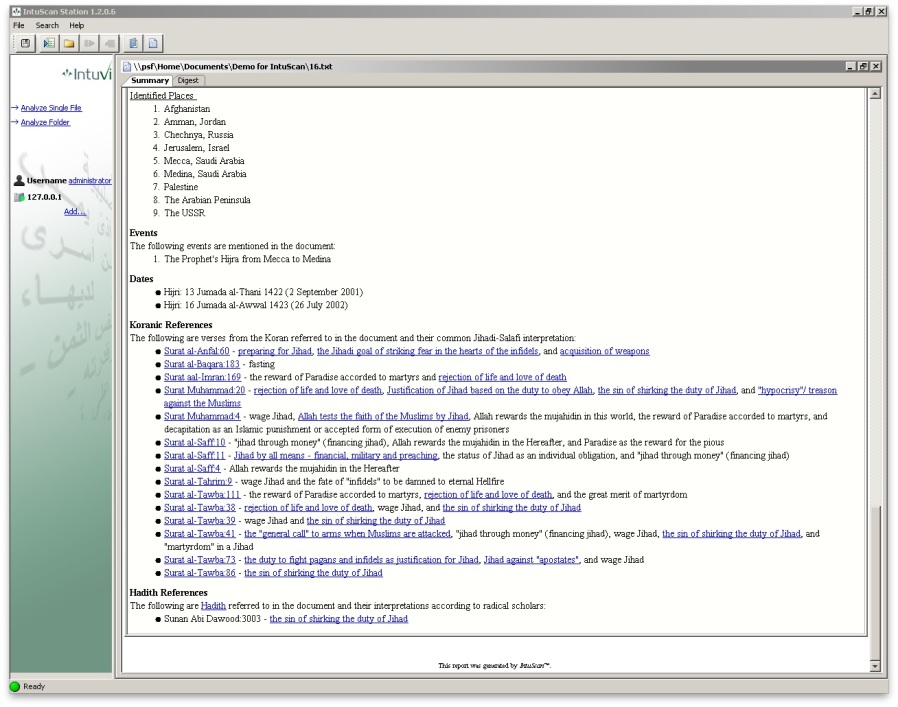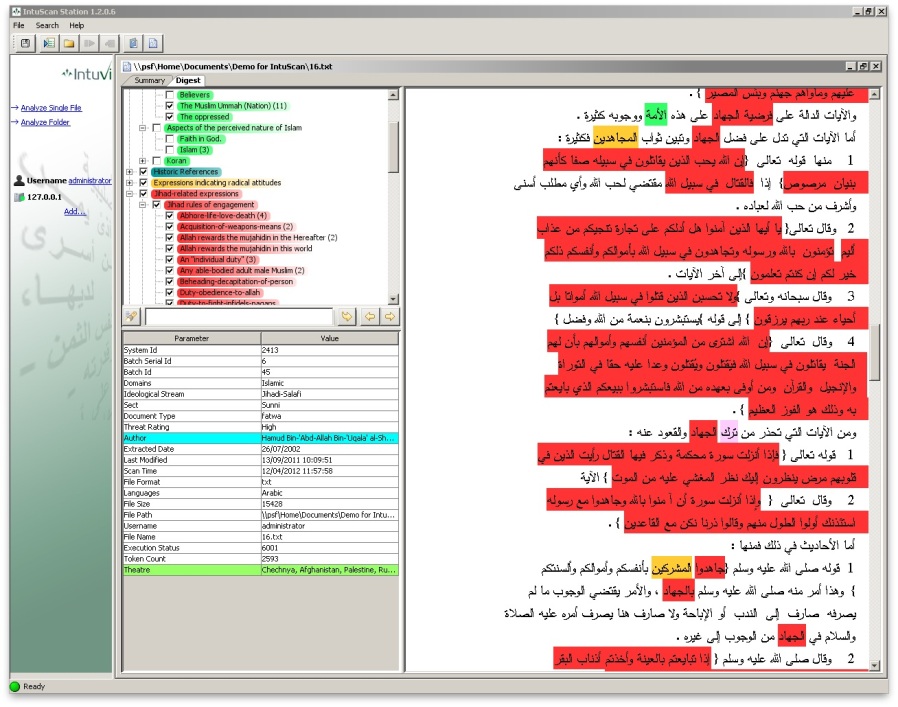 Pictured : Analysis of any sort of text, in various languages, on different levels, for the extraction of information.
"We are currently working on additional software development and adaptation to the Indian market with support in Hindi. The project received funding approval in the framework of the India-Israel Initiative for Industrial R&D within the Chief Scientist's product adaptation track. In India, it is hard for an Israeli company to promote projects, because the Indian market prefers to have business ties with local companies. Therefore, we teamed up with Indian Sunworks, and we suggested that the textual analysis engine could be combined with their system for data management. In order to execute the project, it needs to be localized for the Hindi alphabet (Devanagari) in the local language (and in the future will include other local languages, as there are over a hundred languages in India), as well as the ontology of places, structures, people, and basic concepts in Indian society and politics.
"In our opinion, this truly is a binational project that strengthens ties between India and Israel, and affords access to the Indian market. There is no doubt that India assigns great significance to the governmental framework brought by the support of the Chief Scientist. When discussing a framework agreement between governments, their doors open," explains Bar.
For additional information:
http://www.matimop.org.il/product_adaptation.html