Back
The Rising Sun of Japan – Israel Cooperation
Thanks to the recently signed mutual cooperation agreement, Israeli companies can submit requests for funding to the OCS for R&D projects with Japanese companies
Last July, the Israeli Ministry of Economy and the Japanese Ministry of Economy, Trade and Industry (METI) signed their first, groundbreaking R&D collaboration agreement. To actually implement this agreement, a memorandum of understanding was signed between MATIMOP and NEDO – the New Energy and Industrial Technology Development Organization. The goal of these cooperation agreements is to encourage industrial R&D activities and to promote joint projects between Israeli and Japanese companies in the private sector.
"Israeli and Japanese companies in the private sector have been fruitfully cooperating for years," says Hadas Kroitoru, Program Manager for the Asia Pacific Desk at MATIMOP, the executive agency of the Office of the Chief Scientist. "However, because an appropriate agreement with the Government of Japan had not yet been established, the Chief Scientist could not support Israeli companies engaged in joint R&D activities with Japanese companies. Now that a formal agreement is signed, it has opened up many valuable opportunities for Japanese and Israeli businessmen alike."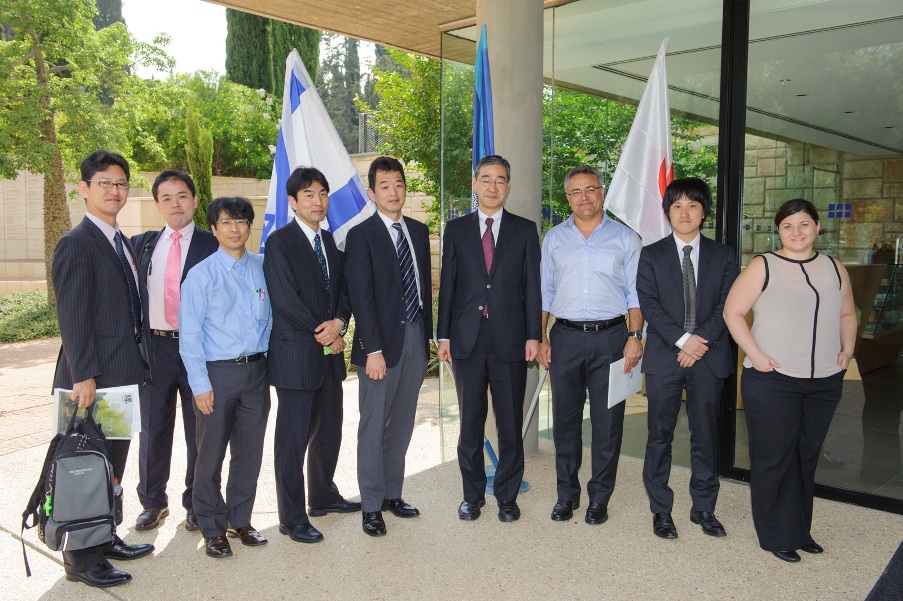 Pictured: METI & NEDO Delegation to Israel - Visit to Technion, June 2014
This agreement is strong evidence of the change in attitude of the Japanese government, and the impact that Israeli innovations have had. "As many statistics show, Israel is the most distinguished start-up country in the world," says Kazuhiko Muto, Director of the International Affairs Office of the Industrial S&T Policy Division of METI, which is one of the signatories of the recent R&D cooperation agreement with Israel.
Muto explained that METI and NEDO believe that Japanese companies could greatly benefit from Israel's strong innovation ecosystem and its support system for start-up companies. "The strengths of the two countries complement each other, and cooperation can lead to innovation as well as serve as a "gateway" to the Asian market for Israel. We expect that Japanese companies will collaborate with Israeli companies to create a 'win-win' relationship. NEDO and MATIMOP's function of providing partner matching assistance will play a key role in facilitating industrial R&D cooperation between Israeli and Japanese companies".
"To assist Israeli companies, the Asia Pacific Department created a catalog of Israeli companies interested in cooperation with Japanese companies," explains Kroitoru. "The catalog will be sent to the relevant enterprises in Japan's technological, industrial and business sectors, and will allow companies from both countries to find suitable partners for various projects."
How to join?
In the beginning of 2015, a call for proposals will be published in both countries, inviting companies to submit applications for funding for joint R&D projects. Israeli and Japanese companies can benefit now from MATIMOP and NEDO's services to search for potential business partners. In order to begin the process, please fill in the short partner search form on the MATIMOP website.
For Israeli and Japanese companies that already have partners, please contact MATIMOP to directly receive updates regarding the issue date of the upcoming call for proposals.
Hadas Kroitoru: Program Manager, Asia Pacific, MATIMOP
hadas@matimop.org.il