Back
When R&D Touches the Sky
Rescuing travelers lost in the desert with the use of an advanced satellite system, flying biological and chemical experiment kits to outer space – the Chief Scientist's R&D programs in space and aviation are all-encompassing, proving that even the sky is not the limit
http://www.iserd.org.ilOver 30 thousand people in distress on land and sea have been rescued thanks to COSPAS SARSAT, a satellite-based search and rescue (SAR) system launched in 1982. The system is funded by about forty countries worldwide, but it also provides complimentary services to countries that do not provide funding, including Israel. Transmission to the system is sent via emergency beacon installed primarily on large ships and passenger aircraft. When the ship is at risk of sinking, or when the aircraft is at risk of an emergency landing or a crash, the beacon jumps into action. The distress signal transmitted from the beacon is received by satellite, and it summons help from rescue services in accordance with international regulations.
But what about the lone traveler, leisurely walking through the desert or sailing in the heart of the sea in his yacht, who finds himself in a state of distress? It is precisely these instances that Daniel Katz, CEO at Mobit Telecom Ltd. took into consideration when he developed the SAT406 – a wristwatch for the rescue of travelers. The wristwatch serves as a small emergency beacon for people who are located in areas with no cellular coverage or other means of navigation. "The watch transmits data about the location of the person wearing it to a system of satellites," describes Katz. "However, unlike large devices installed on an aircraft or on a ship – the watch is more accessible. It's worn on a person's wrist, and within seconds of the distress button being pressed, the traveler can be located, even on the other side of the planet, and they can be rescued."
"Our greatest challenge was to decrease the size of the emergency beacon, usually the size of a brick, to make it more accessible to the person operating it when in distress – for example when falling off a ship into the sea. This was a great challenge, because the beacon needed to transmit to a distance of 22,000 miles with a relatively small battery. In addition, this needed to be done in extreme temperatures of negative 7 and 130 degrees Fahrenheit. In terms of the technology, we had to address various difficulties, and nearly every solution we found produced a patent. We filed ten patents in the United States on this product alone. We have a working prototype that is already being examined and was approved in an international standardization lab."
Mobit was recently awarded recognition at two different competitions in the field of space: a monetary grant for development in the Horizon 2020 framework – the EU program for R&D; and exposure and a business opportunity at the ESNC (European Satellite Navigation Competition) – a European competition held to promote awareness of the Galileo Project – the EU's global navigation satellite system. The competition is held on behalf of ISERD (the Israel-Europe R&D Directorate), operating in the OCS (Office of the Chief Scientist) and in collaboration with the Israel Space Agency. While Katz did not win the final competition or the Master Galileo title, he represented Israel with honor and was awarded a trophy and a citation.
"Thanks to these achievements," notes Katz, "we received funding in order to develop the next generation of the product, which according to our estimate will be ready in two to three years. In addition, we are collaborating with space scientists and European space engineers, and are privy to their advanced systems and technologies. For us, this is an opportunity to better understand global needs and the navigation system, as well as present and future European SAR. Our relationship with the Chief Scientist's ISERD administration is very good. They are our scouts. Their role is to reach people and institutions in the EU and to act as liaison between us and them, and they do this very well.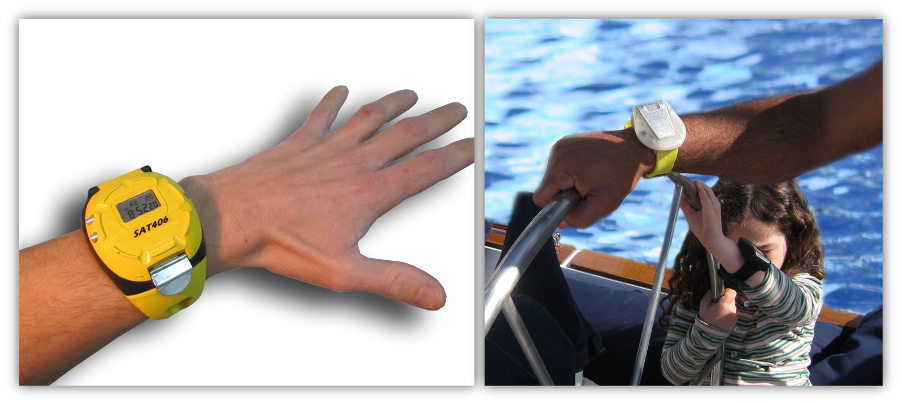 Pictured: SAT406 – the wristwatch for the rescue of travelers.
Promoting Israeli Space in Europe
"In recent years, the use of satellites for civilian purposes (scientific and commercial for civilian use) is being developed worldwide," says Dr. Nili Mandelblit, Director of Space Programs, Transport, Nanotechnologies, Advanced Manufacturing and Processing, and Research Infrastructure at ISERD.
"This is the situation in Israel as well, which is considered a world leader in building small, lightweight satellites and in their launching and operations in space. Of course, Israel Aerospace Industries is the key player in manufacturing and operating the satellites, but there are quite a few other companies who manufacture various components for them."
"At ISERD, we work in various departments and we promote R&D collaborations between Israeli and European companies and researchers. My department works on space and aviation (as well as transportation, nanotechnology and materials, manufacturing processes, and research infrastructure). A significant portion of our activity is conducted in the framework of Horizon 2020 – the EU framework program for R&D, which helps Israeli entities strategically integrate in European R&D and helps them expand their scope of activity. In addition, we work to promote space research and industry in Israel opposite Europe in other ways as well, and in collaboration with the Israel Space Agency."
For the Space Open Call for 2015 (submission by April 8, 2015)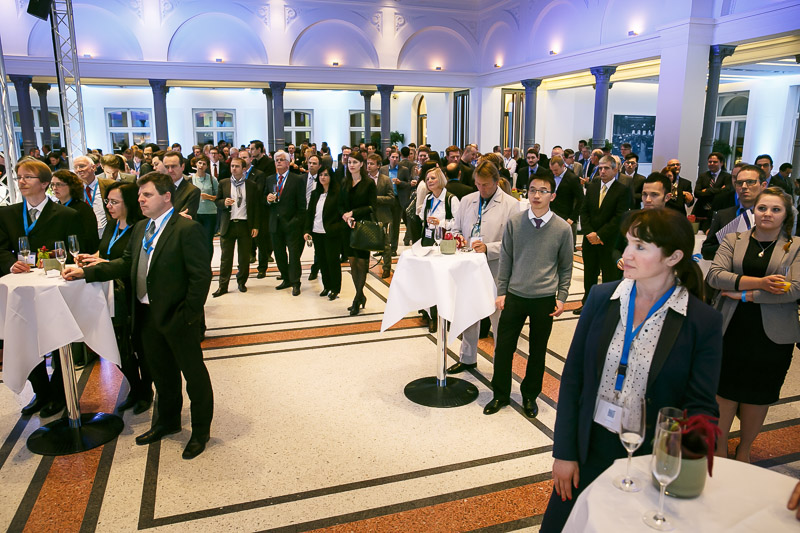 Pictured: Satellite Conference 2014, Berlin
How is the civilian space trend expressed in the collaboration between Israel and Europe?
"The EU has assigned two large projects on space – building a system of observation satellites on earth, and establishing a satellite navigation system called Galileo," explains Mandelblit. "The Galileo Project is a global system of navigation satellites aligned with the American GPS system. While at the moment, GPS is an open system that application developers from different countries, such as Israel's Waze, can base themselves upon, the Europeans decided to establish their own independent satellite navigation system as well.
"In order to publicize Galileo, Europeans sought an Israeli entity to promote awareness of it. We approached the tender along with the Israel Space Agency, and we won the tender. In the upcoming three years, we will receive funding from Europe under the EGNIS project for promoting awareness of Galileo in Israel.
"One of the activities in this framework included participation in ESNC – a yearly European competition for discovering ideas for applications based upon satellite navigation. At the first stage, every country holds a local competition examining ideas for new applications based on satellite navigation. At the second stage, winners from each country compete among themselves over the Master Galileo title. The winner of our regional competition was Mobit, who at the same time won Horizon 2020. The significance of winning the ESNC is not direct monetary profit, rather it is exposure to the idea and the initiative, which will inevitably be followed by investors," notes Mandelblit.
Round Two with Space Florida Begins
Clearly, the Chief Scientist's activity in the field of space does not end with collaboration with the EU. There is productive collaboration in the field of space and aviation with various states in the United States as well, such as Florida. These collaborations are implemented in the framework of the activity of Americas Operations at MATIMOP, the Chief Scientist's operational arm, together with the Israel Space Agency on all matters relating to the implementation of bilateral collaboration R&D platforms.
The collaboration agreement with Florida is implemented by Space Florida, the official entity in Florida operating on behalf of the state – with the objective of financial support of R&D development in the fields of space and aviation. Each side allocates a million dollars a year to support companies from both countries in joint projects.
"This is a funding framework whose objective is cementing and developing existing ties between Israel and Florida, with the use of innovation in joint projects as a driving force for financial growth in both locations," explains Liron Eldar, Director of the United States desk at MATIMOP.
"For Israeli companies, this is an exceptional opportunity to enter the global market, to be exposed to the well-developed industry of space and aviation in Florida, and to join forces under this umbrella of collaboration with leading international players in technological fields of space and aviation. Florida is a leader in all aspects of space and aviation, and is a center of attraction for two thousand companies in these fields."
"In the first round of funding, two Israeli companies won – Space Pharma offering the service of launching scientific experiments to space, and NSL Satellites, which is developing a unique antenna plate that will allow the transfer of information from satellites more quickly and effectively. The second round of funding that was recently initiated allows Israeli companies operating in the framework of this program to receive funding from the Chief Scientist of up to fifty percent of recognized R&D expenses, subject to Chief Scientist regulations."
"It is important to point out that the opportunity offered to Israeli companies is broad, and also encompasses additional technological fields that could be relevant and applicable to the field of space and aviation, such as cyber companies interested in developing space applications, etc. These can also be Israeli companies that are already working on development in the field who would be happy to have an American partner on hand, or companies interested in this for strategic reasons in order to enter international markets. The range of fields and possibilities in this program is very broad, and it is worth examining feasibility and adaptability."
"Furthermore, the high added value given to Israeli companies operating under the Israel-Florida funding framework is significant due to the positive synergy between all relevant Israeli entities, such as the Economic mission to southern US, representatives of the Foreign Ministry, and Florida's official representative in Israel, Enterprise Florida. Therefore, for Israeli companies, there is an entire ecosystem of support for various company needs. For Israeli industry, the added value of synergy is tremendous. It means that if an Israeli company turns to us that is less suitable for R&D collaboration but expresses an interest in other collaborations, they can be referred to more relevant bodies for a more appropriate response," describes Eldar.
For the Space Open Call for funding
Scientific Experiments and Parabolic Flights in Outer Space

Space Pharma, one of the two Israeli companies that won the first round in Israel-Florida R&D, offers the service of launching scientific experiments to space together with 3S Zero-G USA from Florida. Yossi Yamin, Founder at Space Pharma, explains that the concept is to build a small nanosatellite suited to carry biological and chemical material (such as proteins and seeds) for experiments in the fields of chemistry, material engineering, and medication. The nanosatellite would be supported by an application documenting data and findings.

"The plane will soar upwards and will then dive downwards with its head down, free falling for twenty seconds towards earth, while laboratory materials start to undergo reactions to various scientific experiments," explains Yamin. "The quality of microgravity will cause various reactions to take place between these materials. Up until now, experiments of this kind were performed analogically – upon descent, the pilot had to operate the experiments manually. We do this digitally. So far, we have built a system for experiments in space, and this time, we are using our laboratory chassis that is hitching a ride with a parabolic flight, and the pilot doesn't even know that the experiments have begun. Several hours following the experiment, the researcher receives data directly to his personal computer. In effect, every action is monitored from a remote laboratory.

"The phenomenon of microgravity has been well-known for many years, and it allows materials to change during a chemical reaction. Therefore, there is an advantage in performing experiments in space or in a parabolic flight. Scientists would be happy to do this. We are planning our first launch as soon as 2015, and it will include several experiments that have already been ordered from the company.

"As far as we are concerned, there is great significance to the Israel-Florida fund. These affiliations with American entities are very important. Florida has 900 space companies, as opposed to Israel which only has two large space companies and ten smaller ones. The opportunity presented by Space Florida has helped us tremendously from a business perspective. We are a small company, and now we can do exciting things like large, well-funded companies. I must admit that I may not have had the courage to do this without the support of the Chief Scientist. You need a team to flourish, and the Chief Scientist has made this possible," he summarizes.

Pictured: SpacePharma – development, shuttle, and hyperbolic flight team. Pictured above, propulsion engine and vehicle to and from space, where experiment labs will be held.