Back
Incentive – A Significant Incentive for Success
A system for the prevention of brain embolisms, a catheter for spinal surgery, and accelerated simulation to examine chips are just a few promising start-ups in the Incentive portfolio. The Incentive incubator successfully guides and nurtures seed-stage companies developing advanced medical device technologies and software, while locating investors and partners for continued operations.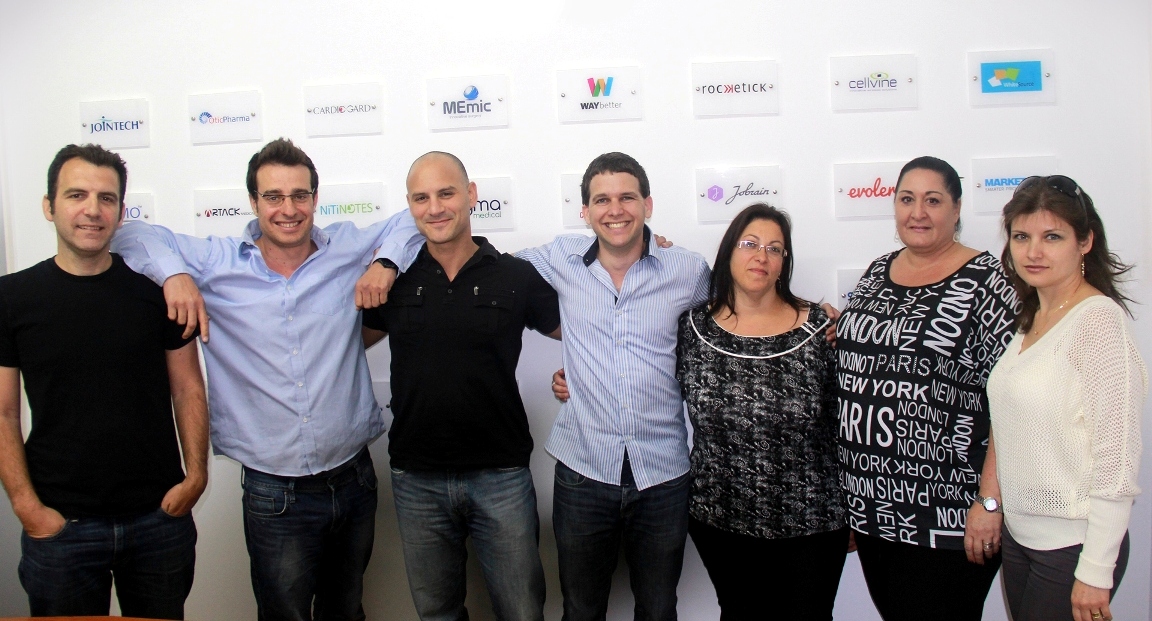 CEOs and the Incentive team. From right to left: Anna Harel, Dafna Chen, Inbal Rachamim, Avinoam Gemer, Lio Shahory, Danny Hadar, Elad Gazit
Roughly 450 thousand cardiac surgeries a year are performed in the United States. Worldwide, about 1.2 millions cardiac surgeries are performed a year, which include various procedures such as valve replacements and bypass surgeries. In all surgeries, the heart is stopped and blood is pumped to the body by a heart-lung machine that functions like a heart. The machine is connected to the body by two cannula (tubes): an aortic cannula that supplies blood to the body from the heart-lung machine, and a venous cannula that returns blood to the heart-lung machine for oxygenation and filtration. The aortic cannulation site is very close to the carotid arteries, and therefore, one of the risks associated with this type of surgery is the release of calcium and fat particles into the bloodstream which could then be transported into the brain causing a stroke. This happens in roughly 5% of these surgeries a year.
"Our solution minimizes this risk," explains Orit Ronen, Research and Development Manager at CardioGard. "In effect, we've added another tube to the existing cannula that pumps blood and particles from the area, so that about 60-70% of the particles are returned to the heart-lung machine and do not reach the brain. Our development is designed solely for adult surgery.
"After two years of research and development in the Incentive incubator, we started clinical trials and were joined by Dr. Walid Haddad, who has extensive knowledge in the field. He is currently COO and leads the clinical trials. We've already registered a patent in the United States, Australia, Japan, China and India, and we've undergone all regulation licensure in Europe," she states, "The results of the first stage of clinical trials that we conducted in Israel and in the United States showed a positive outcome for patients. Doctors also reported that they found it easy to use the machine and to connect the cannula."
"The current stage of clinical trials is being performed in about twenty leading hospitals throughout the United States by a group of reputable surgeons," explains Dr. Haddad, COO. "We even enjoy partial support by the NIH (the American National Institute of Health). The trial includes over three hundred patients, and we believe that publishing the results will be transformative, our product will become known, and will become a preferred treatment as it can prevent known complications. Trials have already begun and will last about two and a half years.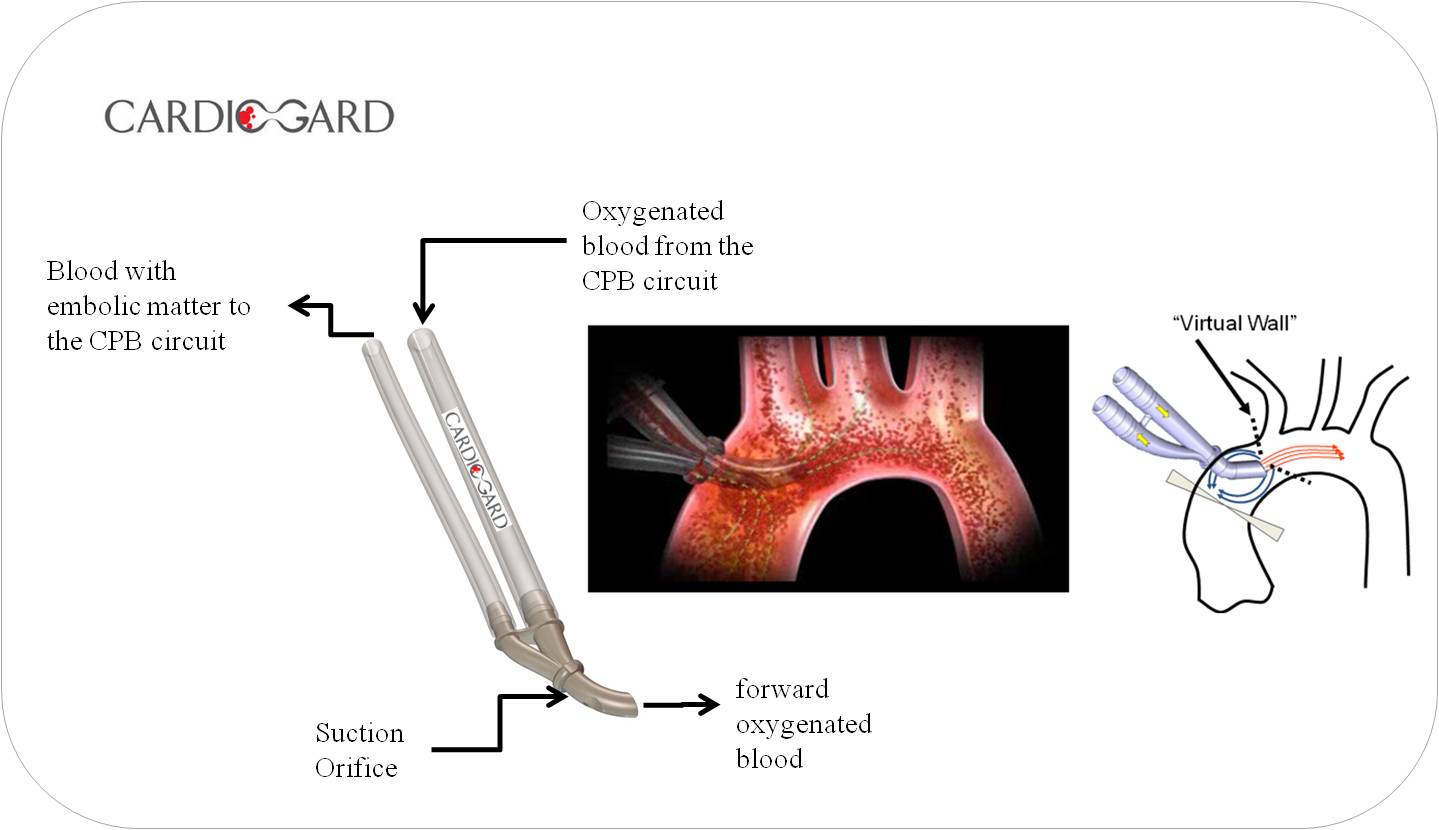 "We're currently in our fourth year, but none of this would be possible without the support of the Chief Scientist, whose assessors have supported us since our early stages of development. This support has been critical for the company's continued operations," stresses Dr. Haddad.
The support of the OCS goes beyond preliminary development stages within the framework of the technological incubator – this is one of many programs operated by the Office. "There is a strong correlation between the different programs," explains Chief Scientist Avi Hasson. "An entrepreneur can approach us with an idea and can receive the support of the technological incubator, and can then continue to receive support as part of OCS programs such as the track for early stage companies, the R&D fund, and can even reach international collaborations with foreign companies. The OCS can be seen as a food chain that supports all R&D stages of seed-stage Israeli companies – an entrepreneur enters with an innovative idea, and leaves as a large established company in Israeli industry."
Taking Big Risks in Seeking the Next Challenge
CardioGard is not the only company that needed support and funding in the early stages of the development of its device. Many companies developing innovative products and technologies must travel the long and arduous path from the promising concept to the promising product, thanks to technological incubators and budgetary support from the OCS. This is the case with the Incentive incubator as well, located at the Ariel University Campus.
"At any given moment, there are seven-eight companies operating in the Incentive incubator," explain Incubator Manager Lior Shahory. "Peregrine Ventures is the incubator's leading shareholder, but along the way other partners joined who'd previously invested with us at more advanced stages. Currently, thanks to the successful work experience, these same partners have begun investing at earlier stages. Our partners include leading venture capital funds and foreign groups: Singaporean, European, and American group. This is an important component because in many instances, start-up companies find it difficult to raise funds in the post-incubator period, while the partners we work with at early stages invest in our companies in later stages of development as well.
"On the medical side, we invest in interventional single patient use devices such as implants and therapeutic catheters. We primarily invest in technologies related to medical devices, and we focus on devices for high-risk patients," specifies Shahory. "These include valve repair, various exclusive stents, cartilage restoration, spinal treatment with complex implants, etc. In the field of software, we seek innovative, scalable solutions for businesses in terms of marketing and technological infrastructure, primarily innovative SaaS software for organizations.
"We're making headway with our dreams and developments," stresses Shahory. "In order to succeed, we work with the big corporations, we meet with them at conferences, we speak with them on a quarterly basis, we understand what their needs will be in 5-10 years, and we seek technologies to promote the progression. We have our eyes open for the next challenge, and we're willing to take significant technological risks. The OCS enters the scene at the early stages of heavy risk and unseasoned ideas.
"We're situated in Ariel University, not in the center, and there are initiatives that we've lost as a result. On the other hand, our initiative has a solid reputation so entrepreneurs who want to enjoy the added value of the business environment created in our midst reach us despite our location. So far, about 35 companies have exited the Incentive incubator. Companies that exited the incubator have collectively raised about a billion shekels. None of this would be possible without the state's support of these companies in their early stages," states Shahory.
"The Incentive incubator model," emphasizes Anya Eldan, GM of Early Stage Companies and Technological Incubators at the OCS, "according to which Peregrine Ventures brings in strong additional partners as incubator shareholders, provides companies with significant added value, particularly in companies' infancy. Often, these investors also invest in these companies later on, thus increasing their potential success once having left the incubator. When partners accompany these companies throughout the process, they're truly obligated to continue to support them in the long term. This is critical, and connects companies with the market in their early stages."
Promising Global Standard Medical Devices
The location on university premises contributes to the success of companies operating in the incubator. "We work closely with the laboratories, we're in contact with the researchers, and when we spot something of interest, we examine possibilities and we build a team," explains Shahory. "We also have quite a few companies that employ university students who continue with the companies at the conclusion of the incubator period. In addition, we work with MEMIC – a young, promising subsidiary developing a robot for laparoscopic surgery. The company was established on the basis of developments coming out of the robotics laboratory, and continues to receive vital support from researchers."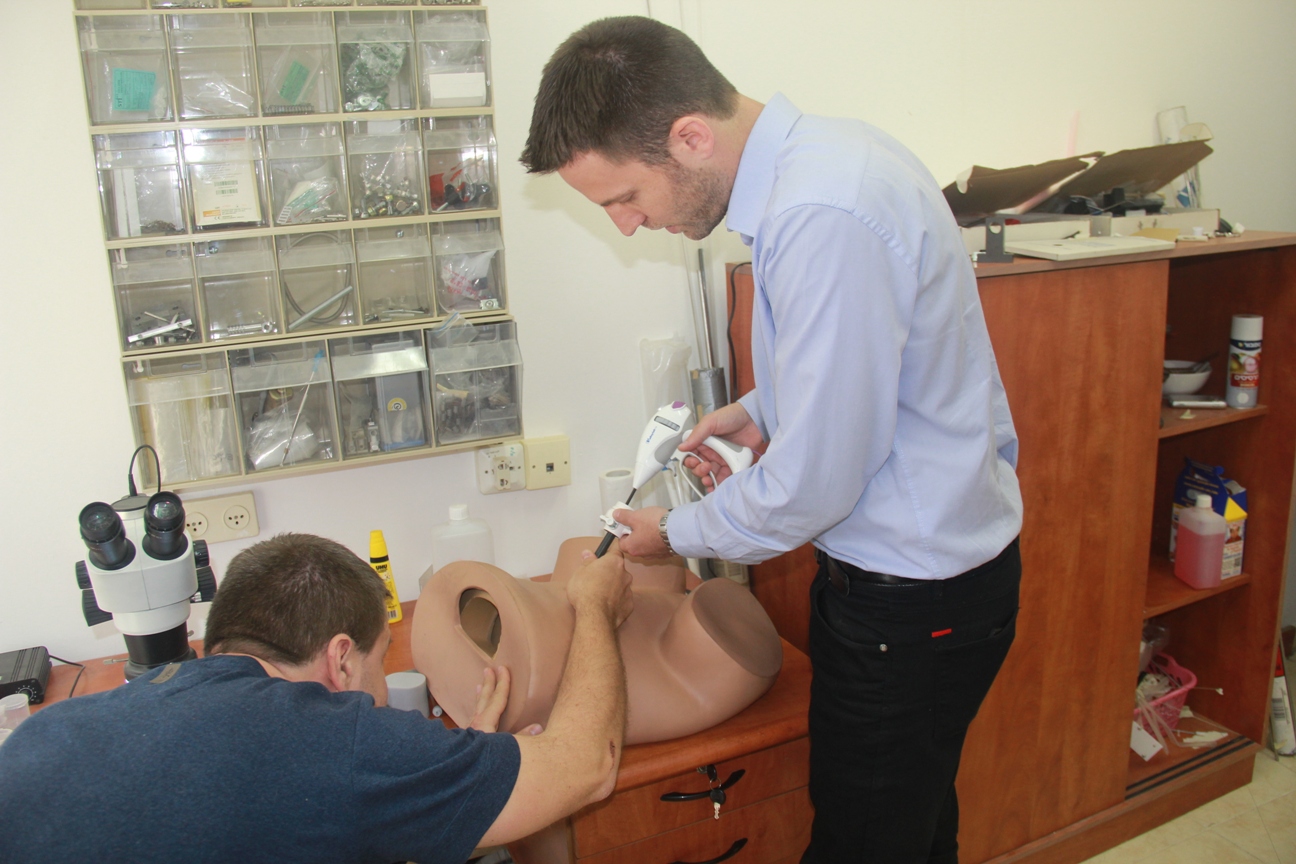 From right to left: Dvir Cohen, CEO at Memic; Eli Shapira
In the field of medical devices, a variety of groundbreaking companies have matured in the Incentive incubator: Neovasc - a company comprised of two of our mature companies that merged with a Canadian company. "Currently, the company is valued at over 500 million dollars," states Shahory. "The technologies Neovasc has developed are groundbreaking in every aspect. It developed an implant, a type of stent situated in the venous system instead of in the arterial system, designed to improve arterial blood flow around the heart for people who have not responded well to bypass surgery or stent placement. The second Israeli company, B-Balloon, collaborated with the Canadian company to develop a method to place a new valve in the mitral heart valve and to reach it via the ribs, or to repair a valve with a special stitch implementing knowledge developed by the Canadian company. The valve that they have developed is considered one of the most promising in the field.
"Valtech is another company that grew in our incubator as well. Its development repairs the mitral valve with catheterization through the venous system. This development could be relevant for about 87% of CHF sufferers – valve expansion resulting from an enlarged heart (CHF with dilated cardio myopathy). Nevertheless, there is still much ground to cover. As of now, the company has CE approval for one of its products, but it still has not received FDA approval. This company began operations in the incubator in 2006, and it's highly valued in current fundraising efforts. This is one of the most promising companies on a global level.
"Another company that matured in our incubator is CartiHeal, which develops implants produced from corals for the facilitation of cartilage restoration. Thanks to the notable resemblance between the structure of coral and the interior structure of bone, within about six months of having installed the implant, the cartilage is rebuilt and the implant dissolves. These implants were successfully placed in over one hundred patients," he specifies. "We also have a company named OticPharma that has developed a way to use foam to treat ear infections among children. This treatment has many advantages in reaching the point of pain, and also in its ability to release the active ingredient more gradually. The company is about to begin its third stage of development, and it is among the few drugs to have succeeded in reaching this far while performing all its activities in Israel.
An Innovative Implant System to Fuse Spinal Vertebrae
Another medical device initiative that is receiving worldwide recognition is NLT Spine. The company develops a system for MISS (Minimally Invasive Spinal Surgery) allowing neurosurgeons to perform spinal surgery more simply, more safely, and less invasively. Surgery is performed through a 'conduit' that serves as a catheter to reach the target location (between the vertebrae) accurately and less invasively. The conduit can be used to pass the implant to the treatment area and to safely implant it between two vertebrae without causing damage to surrounding organs. MISS facilitates effective treatment and faster patient recovery time.
"Spinal surgeries are one of the least developed fields in medicine," stresses CEO Didier Toubia. "The company was established by Orthopedic Surgeon Dr. Tzony Siegal. We developed the technology with various applications focusing on spinal fusion surgery and on the treatment of degenerative disease, but it can be used to treat other conditions as well.
"Currently, fusion surgery is mainly necessary when the disk connecting spinal vertebrae erodes and the spine loses flexibility. Our development is designed to restore stability. It facilitates the artificial fusion of two vertebrae and prevents motion. While this is an implant, we've developed an entire system of accompanying tools and accessories.
"We've already performed a few dozen surgeries. A small portion of these were performed in Israel, most were performed in Europe, and about ten surgeries were performed in the United States. So far, results have been very good, and the product we developed was granted necessary approvals in the United States. The company won American journal Orthopedics This Week's prestigious Spine Technology Award twice, we've been named one of the most promising start-ups by Globes, and we were included in Red Herring Magazine's Europe Top 100," adds Toubia.
"Currently, the company is supported by Peregrine Ventures and the Accelmed Fund, but the Chief Scientist didn't limit his support of our initiative to our period in the Incentive incubator. His support continues at this stage as well, when our goal is to leverage the technological platform for a range of products and to collaborate with large companies in order to reach the market," he states. "Also, about a year ago, one of the leading multinational companies in the spinal field partnered with us. We see this as a vote of confidence in the initiative."
Making the Dream Come True in a Methodical, Organized Fashion
Promising software companies have matured in the incubator as well, such as Zuznow – specializing in the effective compatibility of content for mobile even when working with complex websites with the use of an automatic algorithm with major clients in Israel and worldwide. These clients include banks and insurance, communication, and media companies. Another company is Evolero – that has developed a unique platform for the field of conference management. The company recently concluded its incubator period, and currently a significant portion of its clients comes from overseas.
One of the mature companies that also came from the Incentive incubator works with e-commerce sites. "The retail world is experiencing a revolution, and price comparison no longer requires shoppers to jump from store to store," explains Onn Manelson, CEO of Marketyze founded in 2011 by Manelson and his partner Nave Ronen, responsible for the technical aspect of the company. "Thanks to the internet, anyone can compare prices without having to leave home. There are algorithms working behind the scenes that can compare prices within seconds, but how can retailers be sure that they're offering their clients a competitive price? Marketyze has developed a special system for retailers to help them price their products effectively.
"In effect, Marketyze wants to help retailers better understand their competitive environment, and to reach solid, educated decisions that can be demonstrated by an increase in profitability and sales. Similarly to 'industrial spying' performed by companies that send people to their competitors to investigate pricing, Marketyze visits competitors' sites and automatically extracts information to be used by the system to perform adaptations. By collecting data, we help improve retailers' understanding of their competitors, their pricing policy, their sales, their inventory management policy, and additional parameters," he explains.
Marketyze offers transparency to retailers, similar to the transparency available to online and social media consumers, to examine prices and to buy at the cheapest price available. "This is very important to retailers who carry thousands of products," clarifies Manelson. "Office Depot, for example, who is a client of ours, can use our system to try to understand where the company's products are situated within the competitive market – in terms of price, sales, inventory update, and more. Management performs business decisions based on this information."
In addition to Office Depot, the company currently works with large retailers worldwide, including Best Buy and Sears. "About half a year ago, we concluded our period with the incubator and we moved to Ra'anana," he continues. "Currently, other than the Chief Scientist, there are private investors who have invested in our company, and we are in the assessment phase of the OCS's continuing program. The Chief Scientist has allowed us to realize our vision in an orderly fashion. When launching a start-up, there are many distractions from actual development, but the incubator framework offers the methodical organization of work methods, and eliminates the need to address the financial and legal aspects of the company's early stages. In this manner, we were able to move ahead and focus on developing the software with peace of mind."
Reinventing the Chips
Tomer Ben-David, CEO and VP of R&D at Rocketick, points to the significance of peace of mind in the product development stage offered by the OCS and the Incentive incubator, far away from the professional clique and the spotlight. The company, founded by three partners, is developing a GPU-based simulation software for chip verification. "RocketSim, our main product, streamlines the development process in chip companies. Thanks to our development, simulation chip assessment time has accelerated tenfold, and memory consumption in servers running the assessment simulation has decreased by 80%," explains Ben-David.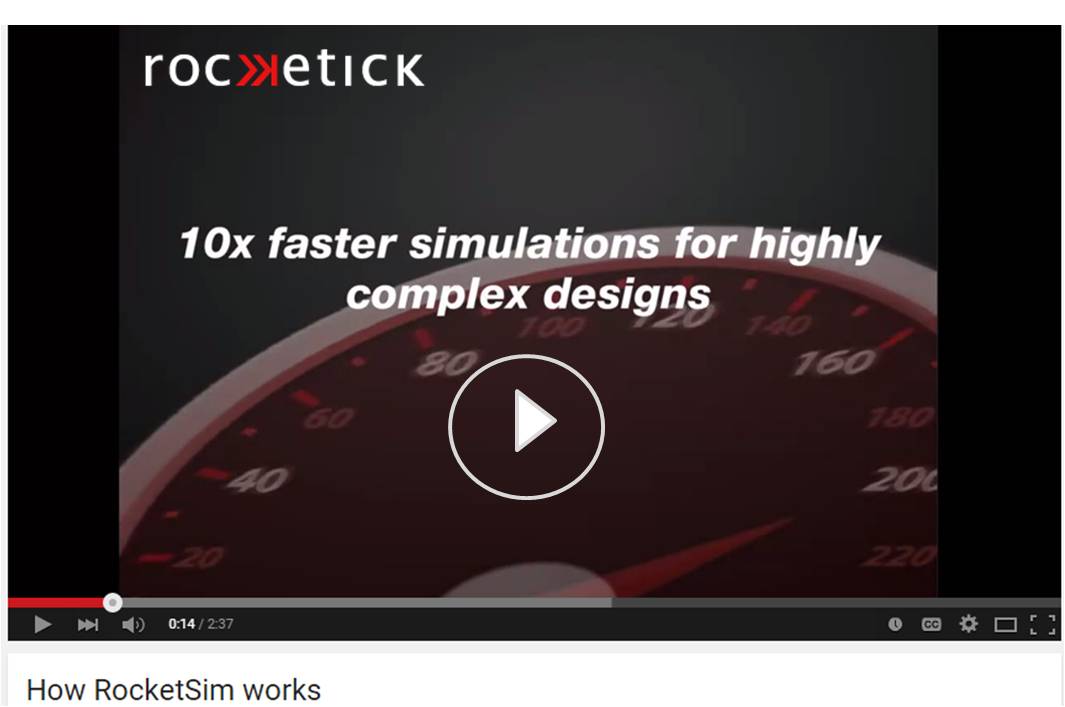 "We've been working with chip design for years, and we haven't felt satisfied with the time required to run their simulations. Sometimes it takes days for approval and production," he continues. "Our idea is to accelerate the pace with the use of graphic cards like those used by X-Box gamers. When we launched our start-up in 2008, there was a huge high tech crash, and we had a hard time finding investors. They were busy licking their wounds and were looking for the next Google or a quick buck. This is why we approached the technological incubator project, who in collaboration with the Chief Scientist, understood the innovation behind our idea and its potential to create jobs and to bring new knowledge to the field. A government entity holds strategic relevance and a broader perspective of the industry, and this suited us to a great extent.
"This framework offered us the opportunity to develop the software without pressure from investors who want to see a return on their investment. We moved to a small office in the incubator in Ariel, and we spent a year and a half developing our product. After we received funding – we also had peace of mind to work hard and achieve our desired results. In 2010, the incubator granted us an award of excellence Later on, we conducted a pilot with two companies in Tzoran, and I'm proud to say that we were Nvidia's first investment in Israel – an important international company in the field. By that stage, Peregrine Ventures had invested in us outside of the incubator, and this step allowed us to continue to expand and develop.
"One of our most important milestones is related to Intel. They invested a year and a half ago, and they're currently working with us to implement the product in Intel. Another technological change stemmed from Intel's investment, and we began working on standard platforms as well. Currently, our product is suitable for any type of hardware. At the moment, we operate like any other simulator in the industry, but faster. As of now, we only sell simulator software licensure overseas for all phone, TV, and computer manufacturers," he notes.
"To be a true entrepreneur, you need to enjoy just 'being,'" shares Ben-David. "There are highs, and it's hard to enjoy the lows as well, but these should be taken in stride as well. It's a crazy rollercoaster ride. One day, you're about to seal a major deal, and on the following day, the deal falls apart. There's a feeling of excitement surrounding the experience. Our decision to work with the Chief Scientist was a solid decision, and now, as a result of our own initiative, we're submitting proposals for stages B and C. We've been granted a solid opportunity to succeed, and I'd be thrilled if we could all make money from this as well. I feel that money is an indicator of success, and we're fully motivated to succeed – not just to make money. I feel that we're starting a revolution."


Incentive Incubator 2 Management Ltd.
Shareholders: Peregrine Ventures and additional investors
Incubator Manager: Lior Shahory
Address: Ariel University Campus
Phone number: 972-3-9085000
Email: admin@incentive-il.com
Website: www.incentive-il.com