Back
VLX – When Technology and Medicine Merge
Sensors for nerve identification in the knee, an implant for controlled release of medications for glaucoma sufferers, and an application to coordinate multi-participant meetings – these are just a few of the products developed in the VLX incubator. With the help of the Chief Scientist, these products will evolve from an idea to a reality that can truly contribute to people's lives.
Anyone close to a glaucoma patient knows this all too well: it isn't enough to perform all necessary tests under a specialist's care, to diagnose the disease on time, and to be prescribed the right eye drops. The true challenge facing glaucoma sufferers is remembering to apply the drops daily for proper absorption and efficacy.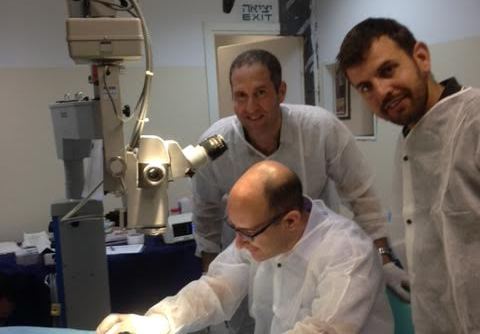 From right to left: Ishay Attar, CEO at Eximore; Eyal Shitrit, CTO
Glaucoma, also known as 'the silent thief of sight,' is a disease that stems from intraocular pressure. It has no symptoms and does not cause pain – but without proper treatment, glaucoma sufferers run the risk of losing their eyesight. Since there is no associated pain, patients only turn to their doctor when their vision is affected, which usually occurs after years of high intraocular pressure. Medical treatment currently offered consists of eye drops, at times several types of eye drops, which must be administered once a day.
"Research indicates that only 30% of glaucoma sufferers who are prescribed eye drops actually comply with their eye drop regimen," explains Ishay Attar, biomedical engineer and CEO at Eximore operating in the Jerusalem VLX incubator. "Some of these are elderly patients who have poor memory while other patients simply forget or neglect the administration of their eye drops. Data indicates that about 80% of patients who fail to use their glaucoma medication as prescribed will become blind.
"In order to help these patients, Eximore is developing a punctal plug designed for the regular, controlled release of eye drops over a period of three months. There are similar products available on the market, but our plug is unique in that it's non-invasive," explains Attar. "We've developed a soft, flexible implant that is inserted into the tear duct that offers an opening to the eye. The procedure is conducted in a clinic setting, where an ophthalmologist slightly expands the tear duct without the need for a surgical procedure or anesthetic, and then inserts the implant into the duct. This procedure completely eliminates the need for patients to administer eye drops on their own.
"The implant releases a tiny amount of medication at regular increments amounting to a total of one drop a day, meaning the implant also works when asleep at night at which time intraocular pressure increases for some patients. The implant can also be used to administer more than one type of medication, thus maximizing treatment outcome. The patient would need to visit their doctor every three months to replace the implant and monitor the intraocular pressure," he specifies.
"The idea originally came from the Sheba Medical Center at Tel Hashomer, the work of Professor of Ophthalmology Guy Ben-Simon and Chemist Izhar Halahmi," explains Attar. "At this stage, we've concluded prototype development and have been able to prove that the plug releases medication for a period of three months. We're now starting the diffusion trial. We can say with full confidence that quite a few patients owe a debt of gratitude to the OCS, which invested and helped our implant reach its full potential.
"After completing our upcoming trial, we'll move on to the external fundraising effort to be added to the Scientist's current investment. In terms of development, at this stage the treatment is solely geared towards glaucoma sufferers, but the technology can be used to administer other medications as well and can offer a solution for other medical conditions," summarizes Attar.
The Trend: Integrating Medical Devices with the World of Mobile
Eximore is one of six companies operating in the VLX )Van Leer Xenia) incubator in Givat Ram in Jerusalem developing innovative products, and it is a shining example of the integration of medical devices with advanced technology. The technological incubator is currently jointly owned by Van Leer Ventures and Xenia VC. "We won the OCS's tender about two years ago," explains Incubator Manager Ori Choshen. "From day one, we approached the tender as an integration of two leading, experienced entities: the Xenia VC Incubator and the Van Leer Ventures Incubator, which decided to join forces for eight years of incubator collaboration."
Anya Eldan, GM of Early Stage Companies and Technological Incubators at the OCS, points to the noteworthy contribution of these two experienced entities joining forces and operating as a joint incubator. "Assistance for initiatives operating in the incubator is seen in accessibility to the capital market and in technology and business support. The consolidation of these two incubators combines many years of significant experience in working with seed-stage companies and offers them a supportive environment. This increases seed-stage companies' chances of success in the incubator and in future endeavors.
"In order to understand the extent of the contribution to the Israeli economy it is important to note that over the years, the Chief Scientist has invested about 85 million shekels in initiatives emerging from the two incubators. At the same time, shareholders of these two entities have invested an additional 35 million shekels, and at a later date, these initiatives raised about 150 million shekels, primarily from overseas. The country profits from this investment because it is the product of the medical and high tech economy estimated at about 200 million shekels, which wouldn't have been possible without this initial investment. This technique produced significant professional knowledge and experience that remained in Israel either in successful initiatives, or in transferring people from failed initiatives to other initiatives in Israel. This is a success story for both the shareholders and for the country," he explains.
"Our incubator's compelling advantage is in the team's experience that has already proven itself," continues Choshen. "Over 80% of companies supported by the Xenia and Van Leer incubators succeeded in the second round of fundraising in addition to the initial investments by the Chief Scientist and by incubator shareholders. This is no small feat. Beyond a proven professional record, the VLX incubator's reputation is well-known on all matters regarding interpersonal relationships and rewarding work experience. This holds great significance because of the close-knit, intensive operations where developing companies work together for hundreds of hours. Our shareholders Docor and Xenia present another advantage. We leverage these companies and their shareholders' experiences, abilities, and global connections for the benefit of the initiatives, and they can make future investments in our initiatives' as well. Companies receiving support from our incubator are selected with the advice and cooperation of all involved partied," describes Choshen.
"The broad support offered by the incubator helps the entrepreneur locate potential clients and investors through professional assistance and guidance," stresses Chief Scientist Avi Hasson. "The incubator activity period substantially increases the established company's chance at raising funds, connecting with a strategic partner, and exiting the incubator as an independent business."
"Our incubator has two central branches – ICT and medical devices," specifies Choshen. "We're invested in another field as well that combines the two, called Mobile Health or Digital Health, combining medical devices with the world of technology and mobile. These developments contribute to the patient's quality of life and save money for the health system.
"We recently partnered with the international telecommunications company Telefonica, which has over 300 million users in 24 countries. Telefonica, aiming to bring new services and developments to its target markets, eyed Israel as a natural destination for innovation in mobile and digital. This is an important strategic step for Israeli start-ups working with us. With this partnership, we can offer a unique, proximate, professional support 'package,' a seed investment and collaboration with a leading global company," he stresses.
The Medical Field: A Heavy Risk that Only the Chief Scientist can Bear
Other than Eximore, there are two other medical companies operating in the VLX incubator. One is Omnix – a company that recently joined the incubator and is developing a new genetically engineered antibiotic. In effect, the company 'mimics' the manner in which bugs in nature interact with and kill various bacteria. "This is a very risky field," explains Choshen. "The concept is in its infancy, and has a very long path ahead until the final product. Nevertheless, if we succeed, this would be a dramatic medical development. It is also important to stress that huge sums of money are needed in order to implement the idea. Since we're a relatively small entity, our goal is to advance the idea from the concept stage to proving feasibility and applicability, and not to the market launch stage."
"TPM Medical Systems is another young medical company that began working in the VLX incubator in January. The company is developing a sensor to detect the sensory nerves in the knee, allowing precise nerve ablation in order to relieve pain and to improve the patient's quality of life. CEO and Founder at TPM Medical Systems Ilan Krymka points out that knee pain currently being treated is the result of osteoarthritis – degenerative arthritis also known as cartilage erosion. "I came to this together with Dr. Assaf Dekel from Assaf HaRofeh Hospital, an orthopedic surgeon who performs knee and shoulder replacement surgeries. This is a problem faced by 50% of people over the age of 50, of whom roughly 20% suffer from various degrees of pain. The standard medical care currently available is suitable for patients suffering from minor pain, consisting of medication, physiotherapy, and injections, or for patients with major knee pain, who face knee replacement surgery with long projected recovery periods. Currently, there is no treatment available for patients who suffer from moderate knee pain, and their quality of life suffers as a result," he explains.
"To help patients, we must identify the source of pain in order to treat it," clarifies Krymka. "The area of pain is supplied with sensory nerves that reach the knee, and we want to identify and burn these nerves. Our treatment does not cure the disease, but it can improve the quality of life of those who wish to postpone or even entirely avoid surgery. How does it work? The sensor, based on RF technologies, scans the knee much like radar and identifies the nerve tissue in order to aim at the precise nerve location. Treatment is minimally invasive and is conducted in a pain clinic. Our innovation isn't in nerve ablation – there are already technologies that do this, and we will adopt one of them later on – but is in the development of nerve detection technology. We're still at the seed stage of the process. We've already conducted preliminary trials under the umbrella of the incubator with positive results, and are constantly continuing to improve the technology.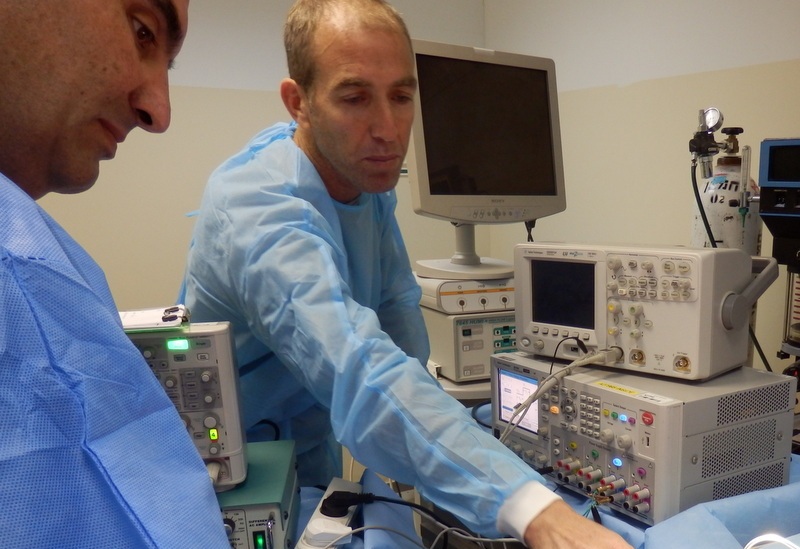 From right to left: Ilan Krymka, CEO at TPM; Dan Rappoport, PhD
"In our case, 85% of the investment came from the OCS, and the remainder came from incubator shareholders. The risk is too great for private investors without the Chief Scientist's support to mitigate the risk. Other than the high investment and the substantial risk, we're facing additional challenges: a technological challenge, a regulatory challenge, and a marketing challenge in facing the medical community. As far as we're concerned, at least the OCS is willing to take on the preliminary risk of the technological challenge (together with incubator shareholders), and therefore, it is a key player in this exploit," he summarizes.
In Technology As Well:
Assistance in Various Stages of the Product Development Process
There are three additional ICT companies operating in the VLX incubator receiving assistance from the incubator in various areas of product development.
The I Am Real company is developing an algorithm for identity verification on the internet and in social networks. The company is going to market with the product after about half a year of work in the incubator. At the same time, the incubator is also invested in Neragon, and helps it in building strategy and in maximizing the value of the product it's developing – a third generation smart, compact EPC (Evolved Packet Core) designed for day-to-day use in smart cities. Nergon already has a major partner in Japan despite having begun its operations in the incubator only seven months ago.
The third technology company operating in the incubator is Meeter, who several months ago launched the BETA version platform, and recently officially launched in the United States as well. The company has developed a smart system for managing, coordinating, and updating multi-participant meetings, based on an algorithm that will scan the digital calendars we use for scheduling our daily activities, will study users' preferences, and will suggest available dates for meetings for immediate approval. The product is designed for both the private and business sector.
Cofounder and CEO at Meeter Niv Kagan relates that the idea for the development stemmed from his personal need to streamline the manner in which his work meetings were being scheduled. He developed a simple demo application for android and for iPhone, but he felt that it still wasn't good enough. "When we entered the world of meetings, we realized that it was larger than we anticipated. We discovered that a smart system was indeed necessary for a larger market – employees, salespeople, and groups. Everyone needed to coordinate meetings, even for large numbers of participants.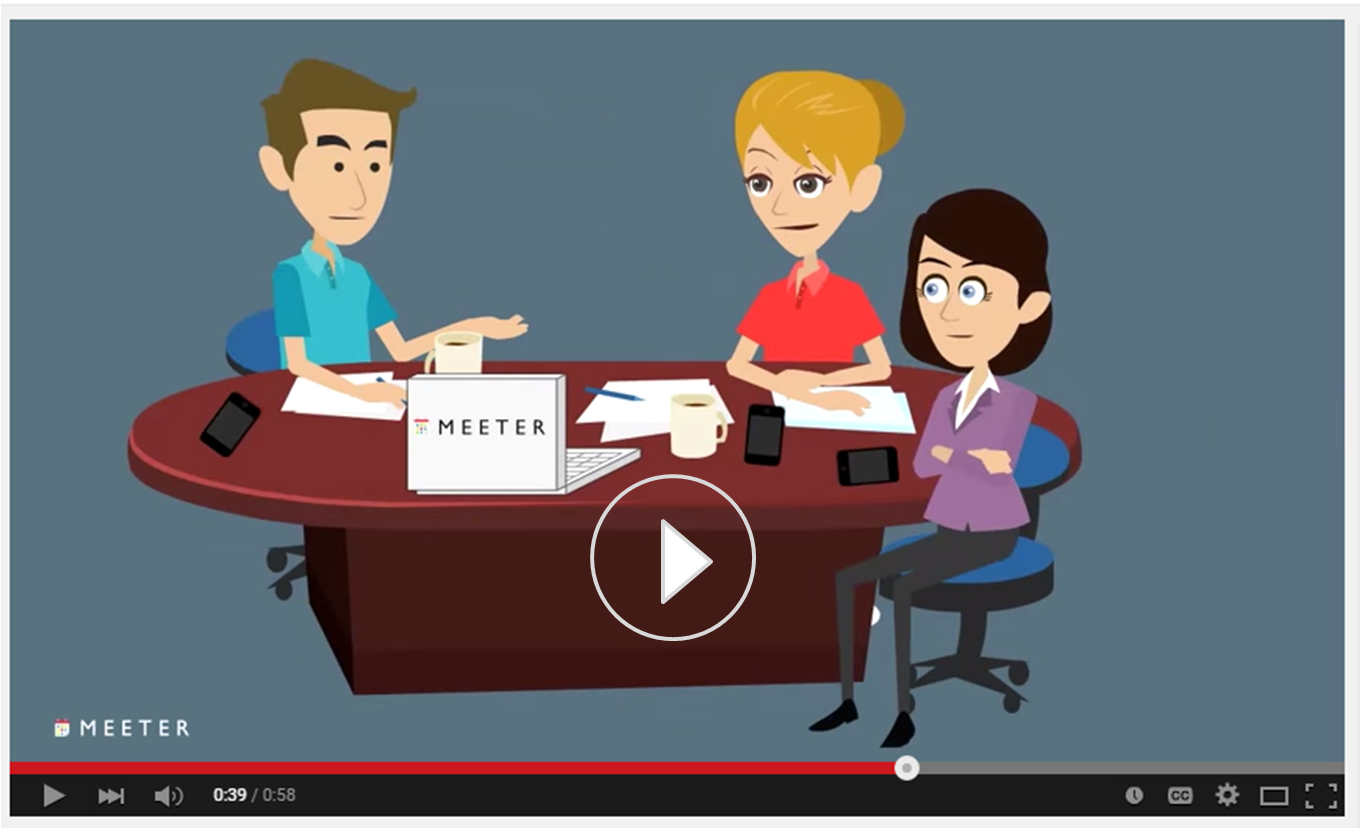 "We currently have an application available for the web and for smartphones, but we're considering additional functions for our system to address: creating landing pages for businesses to set meetings with potential clients according to their schedule, determining the characteristics of certain types of meetings, statistics, and more. Of course, there is the issue of information security, and we don't have access to clients' contacts or to their emails. Users can block off certain times in their calendar without anyone knowing what they're doing during those time slots. Ultimately, this will evolve into a social system that can be used to see when people are available. We want to provide a similar solution for the real world that doesn't require many phone calls or emails," he clarifies.
These examples demonstrate that mergence is the key word at the VLX incubator. This is a joint incubator where two experienced entities merge and collaborate for innovative initiatives, and the incubator itself seeks technological developments that combine its two fields of expertise – medical devices and ICT.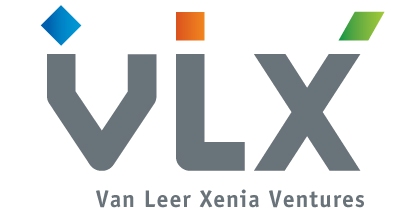 VLX Incubator – Van Leer Xenia Ventures
Shareholders: Jointly owned by Xenia VC and Van Leer Ventures
Fields of Investment: ICT (including software, mobile, communications, etc.), medical devices, and a combination of the two – Digital health
Incubator Manager: Ori Choshen
Address: High-Tech Village, Givat Ram Campus, Hebrew University, Jerusalem
Phone number: 972-2-6553333
Email: admin@vlx.co.il
Website: www.vlx.co.il