Back
Hutchison Kinrot – Technology Serving the Environment
The Hutchison Kinrot incubator guides and nurtures early stage start-ups that combine technological innovation with industry, and that offer advanced solutions in water technology and Cleantech. Thanks to this support, promising discoveries and technologies stand a better chance of becoming profitable companies that will make a significant contribution to a more environmentally sustainable world.
What do water corporations know about what's happening in municipal water pipes that carry water to our homes? Very little. Water is an absolute necessity in our lives, but even the municipality and the water utility do not know when pipes corrode or when damage to piping could cause a loss of valuable water or could even leave us without any water supply at all. In this present situation, only when someone calls the utility hotline to complain about a bursting pipe does the utility begin to investigate and locate the source of the problem underground. In the meanwhile, by the time the problem is fixed, a significant amount of water is wasted, and the caller is forced to wait.
Entrepreneur David Solomon understood the urgent need for early identification of leaks in water pipes and locating these leaking pipes, and in 2009, they established Aquarius Spectrum. The company began operating in the Kinrot incubator with the goal of providing an effective solution for managing and monitoring the water supply network. In 2012, the company exited the incubator with an innovative product – a system combining software and sensors for daily monitoring of municipal water pipes and for locating hidden underground leaks. Currently, Aquarius Spectrum is an independent company with 15 employees, and it belongs to Hutchison Water's corporate group. The company has four utility clients in Israel – in Jerusalem, Netanya, Modi'in and Karmiel, and thus far it has installed over 2,000 sensors throughout approximately 1,000 kilometers of water pipes.
CEO Zeev Efrat explains: "Aquarius Spectrum is a technology leader in the following areas: AQS-SYS online leak detection in water pipes; continuous monitoring of water networks; and advanced smartphone and app tools ("iQuarius") for field survey & correlation and leak pinpoint.
How the system works: The AQS-SYS correlated detection system is a game changer in water leak detection and asset management. The system informs you with certainty when a leak is starting to develop, giving you its exact position long before the damage is caused. AQS-SYS is based on correlating sensors that integrate 3G cellular communication, GPS synchronization, and cloud-based automatic signal processing. iQuariusTM connects your smartphone with our cloud-based correlation analysis engine and water system mapping application.
"It is the only water detection system in the world that enables receiving of online support for correlation interpretation from a live supervisor that can see all your measurements remotely and can guide you, based on GIS maps and advanced data analysis. iQuariusTM integrates state-of-the-art technologies, creating a solution that surpasses conventional methods of leak detection by a mile!" stresses Efrat.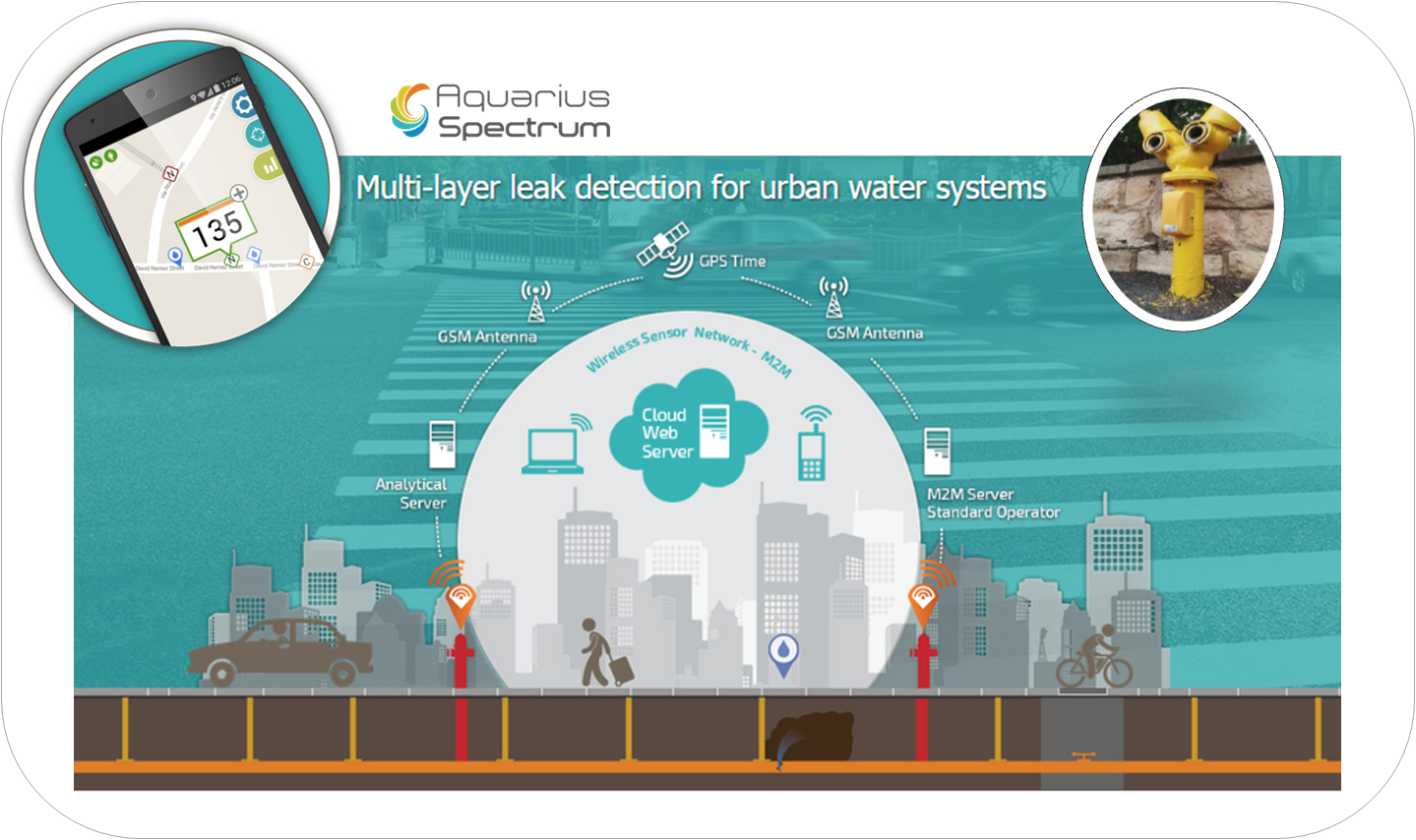 Industrial Applications of Clean Technology ('Cleantech')
Aquarius Spectrum is only one of the success stories coming out of the Hutchison Kinrot Incubator in the Poleg Industrial Zone in Netanya. The incubator is owned by Hutchison Water, Hutchison's water division – a publicly traded corporation from Hong Kong operating in over 50 countries worldwide with about 260,000 employees working in a variety of fields such as port operations, real estate, energy, retail, and telecommunications.
"The Incubator was acquired by Hutchison Water in late 2012, and since then, we've been investing in all fields of Cleantech," explains Incubator Manager Roy Wiesner. "First and foremost, we work with water technology, but we also seek initiatives in other fields such as renewable energy, energy storage, energy efficiency, composite materials, agricultural technologies, and environmental technologies.
"Most companies operating in our incubator come from private entrepreneurs, but we've also commercialized technologies from research institutes in Israel such as the Hebrew University in Jerusalem and the Technion. While we invest in about five new companies a year, we see over 150 projects a year. We seek a strong, highly capable entrepreneurial team with an interesting, innovative technological concept mostly geared towards the industrial and/or municipal field. Mostly, there is a core hardware element, but we examine software projects as well. In these fields, it is no simple feat to find investors who can provide significant financial backing, who possess comprehensive technological knowledge, a wide network, and a long-term investment horizon, but our goal is to help these entrepreneurs turn their idea into a product and to establish a profitable company," he stresses.
There are currently seven companies operating within the incubator as part of the incubator program, and another company was recently granted the OCS's final stamp of approval and will soon join the incubator as well. "Alongside young incubator companies there are mature companies as well, some of which still operate in our offices where we have an ongoing investment," says Wiesner.
A glance at companies operating in the Hutchison Kinrot Incubator reveals the range of its cleantech fields: SolEx Water – a company developing technology for the treatment of brine and various industrial streams, with a focus on the treatment of produced water from the oil and gas industry; Renergy – a company developing an energy recovery system for reverse osmosis desalination plants, offering significant capital expenditure savings; Advanced Brine Solutions – a company targeting the treatment of brine from the food and beverage industry, the chemical industry and landfills by minimizing brine volume through forced evaporation using an innovative approach significantly cutting down treatment costs; 02 Waterator – an aquaculture company developing a new type of aerator to enrich intensive and extensive fish pond water with oxygen; EZ Powerlines – a company developing revolutionary electrical devices to replace residential GFI (Ground Fault Interrupter) and surge protector devices, providing full protection from electrocution in the home; FICOS – offering a unique solution for early identification of malfunctions in electrical panels and cabinets, providing early warning for fire outbreak; and DST – developing a unique system for sludge treatment.
The Added Value of the Chief Scientist Investment
"We never stop seeking applicable ideas," clarifies Wiesner. "For example, following research conducted at the Hebrew University in Jerusalem, we established a company named Mercu Removal based on patents licensed from the university. The company aims to remove toxic mercury from flue gas emissions of coal based power plants, industrial boilers, etc. Regulation of this field is becoming increasingly strict worldwide, and we are seeking solutions that address the matter. We are in constant contact with all of the research institutes across Israel. They introduce us to relevant technologies, and if we locate something at the right R&D stage, significant market potential and technological innovation – we examine the possibility of taking the technologies further. This is one of the clear goals of the incubator program. We take risks and invest a great deal of resources in order to find clean technology solutions.
"With these types of projects that combine technological innovation with an industrial element, development time is relatively long and requires many lab and field pilots. This isn't an application that can become a product within a few months, but rather these are long-term development projects related to chemistry, mechanical engineering, physics, or biology. These commercialization processes also require regulatory approvals and dealings with utilities, and this takes a great deal of time as well. Not many incubators do this, especially not in our field.
"Therefore, the OCS's budget for Cleantech start-ups is slightly higher and allows companies operating in the incubator the opportunity to spend two years on technological development before they continue to raise funds," explains Wiesner. "As far as Hutchison is concerned, investment in the incubator allows the corporation to invest in interesting, innovative technologies with the objective of becoming one of the most prominent players in water and Cleantech. It is often difficult for large corporations to make small investments, but working within the Chief Scientist's incubator framework allows us the opportunity to do this more easily," states Wiesner.
Anya Eldan, GM of Early Stage Companies and Technological Incubators at the OCS, explains that "Hutchison is a leading multinational company in the field and an important strategic partner for incubator companies. The incubator provides early-stage companies with access to water and Cleantech experts, and helps them reach various markets worldwide where the multinational company operates. This is a major advantage for a young company that would probably be beyond its reach without collaboration with Hutchison.
"The advantages of the Hutchison group certainly help companies operating under the umbrella of the incubator," continues Wiesner. "They receive organizational knowledge and legal, accounting, and professional support in R&D and in business and strategic development on a world-class level. There is no doubt that an early stage company is treated differently in negotiations with potential investors and partners when they are part of such a large entity. It opens doors for these companies and helps them break out. Ultimately, we help guide these budding companies and are very hands-on, taking an active role in creating their competitive advantage. This is the added value of the OCS investment – we afford strategic collaboration and help in securing pilots and entering international markets. It is very difficult for a small start-up company to do this on its own.
"On a personal level, I'm pleased to be involved in technologies with a Zionist flavor that offer a true contribution to the world, such as the prevention of water loss, treating wastewater, and removing dangerous pollutants from the water and air," he summarizes.
The Incubator Prototype Becomes a Shelf Product
HydroSpin's unique micro generator also demonstrates the way in which an applicable idea for innovative technology in the water industry can become a tangible product in a commercial company. This could only be achieved through the significant financial support of the OCS during the R&D stages, alongside a strategic investment investment by an international corporation like Hutchison during the growth stage. Hydrospin's systems generate energy from the water flow within pipes, in order to operate various monitor and control systems installed in the water network. The Hydrospin system enables reliable operation of water meters, pressure devices and water quality instrumentation, as well as data collection, data logging, data transmission and alerts sent according to customers' definitions and needs.
"This is a small generator located in water pipes that generates electricity from running water," explains Assaf Bassi, CEO of HydroSpin. "Generated electricity activates various systems in the water pipes that measure water quality, pressure and flow rate, and require electricity for their operations. Currently, in order to supply this energy, either the electricity network needs to be connected to the monitoring systems or a large solar panel or batteries need to be installed. However, all these methods result in different problems. Our solution is to supply this energy from the running water within the pipes themselves, and to activate various measuring systems in this manner. Our development is a box that connects to the sensor and transmission systems in the field. It connects to all types of operating systems. It's like a constantly rechargeable battery-operated electrical outlet."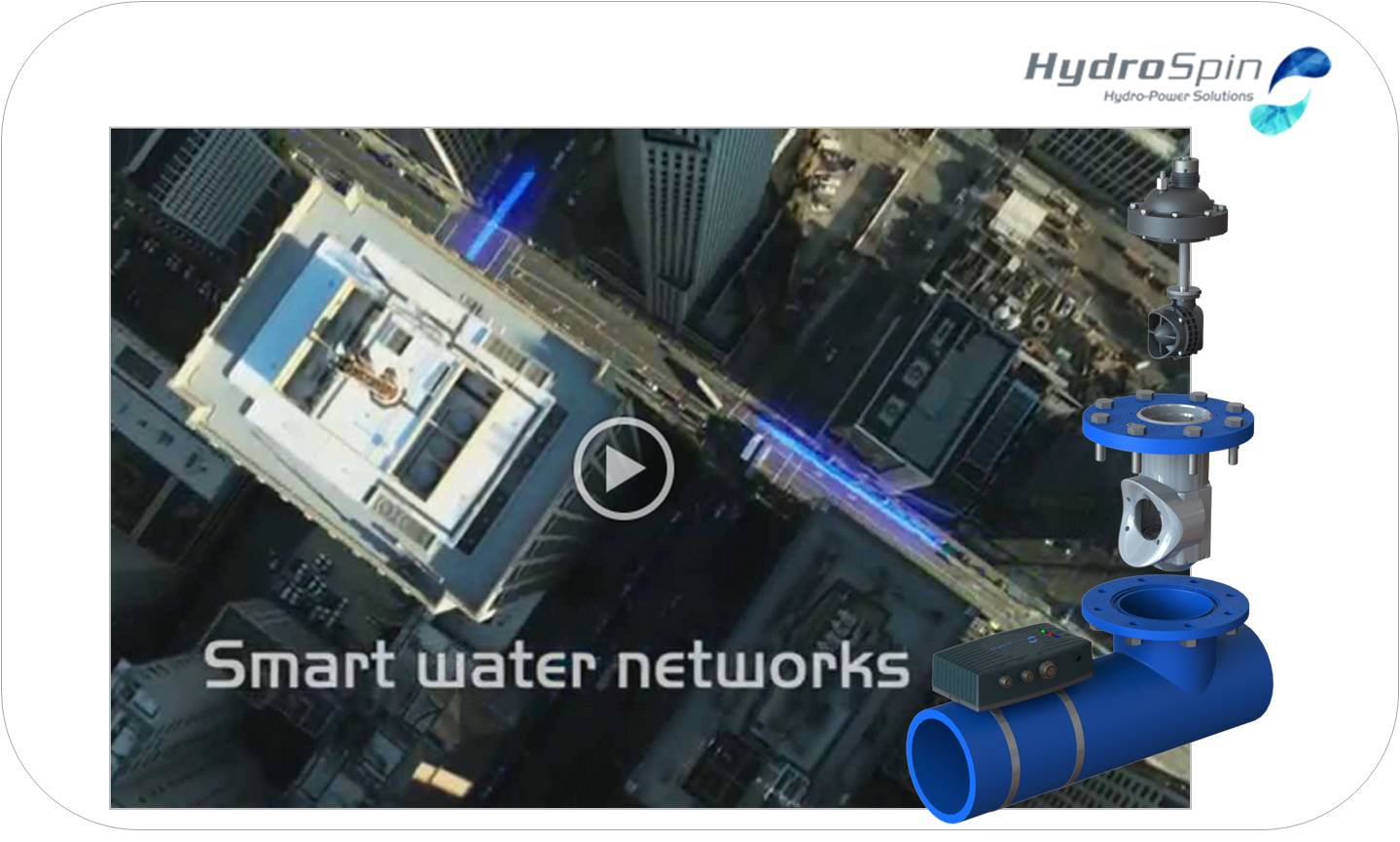 HydroSpin's development was given new life by Hutchison. "Product development began in the incubator in 2010, but when the incubator period ended, product development was halted," describes Bassi. "About a year ago, Hutchison decided to heavily invest in the initiative and I came in as CEO. Over the past year, the company has evolved from development to manufacturing, and the incubator prototype has turned into a commercial product. By late 2014, we already had 50 market-ready preliminary units on the shelf. Our target client base is water utilities and companies such as Mekorot. While there is only one such corporation in Israel, there are 50 thousand similar water utilities in the United States, and the potential is huge. We recently began marketing to Vietnam, Poland, and Austria. The product is currently manufactured in Israel. We buy parts from various companies and we assemble them here, but in the future we'll have a variety of similar generators adapted to clients' needs.
"The fact that in previous rounds of competitive bids, the program succeeded in attracting strong entities and groups such as multinational corporations along with local corporations, and foreign venture capital funds along with Israeli funds, demonstrates the way the world views Israel, and the way it views this program in particular," clarifies Chief Scientist Avi Hasson. "Through this program, Israeli start-up companies receive broad exposure in global markets as well as professional support and guidance. As a result, they increase their chances of success. We are approached by different countries from all over the world that are interested in learning the principles of the program and that wish to implement the program in their jurisdiction," he describes.
A Catalytic System to Remove Pollutants from Groundwater
WellToDo's success story also demonstrates that the investment of an international corporation at the sales and marketing stage is no less important than the financial support of the OCS for development activities in the technological incubator. "When I started working with Dr. Uri Meytal, who developed the technology that our product is based upon together with Professor Moshe Sheintuch at the Chemical Engineering Faculty at the Technion, they were at the patent writing stage," describes CEO Hovav Gilan. "We developed the technology in the incubator together with the patent division at the Technion and with a small venture capital fund. We concluded the first two years of the incubator program, extended operations by another year and in this timeframe, we reached a pilot we could display in the field. At this stage, Hutchison Kinrot together with the Technion have continued to invest in us while we are seeking co-investors, and we've been awarded a grant under the Israel-U.S. Bilateral Research and Development Foundation (BIRD) and are undertaking wastewater analysis for a large mining company in North America, with the objective of developing and commercializing the product."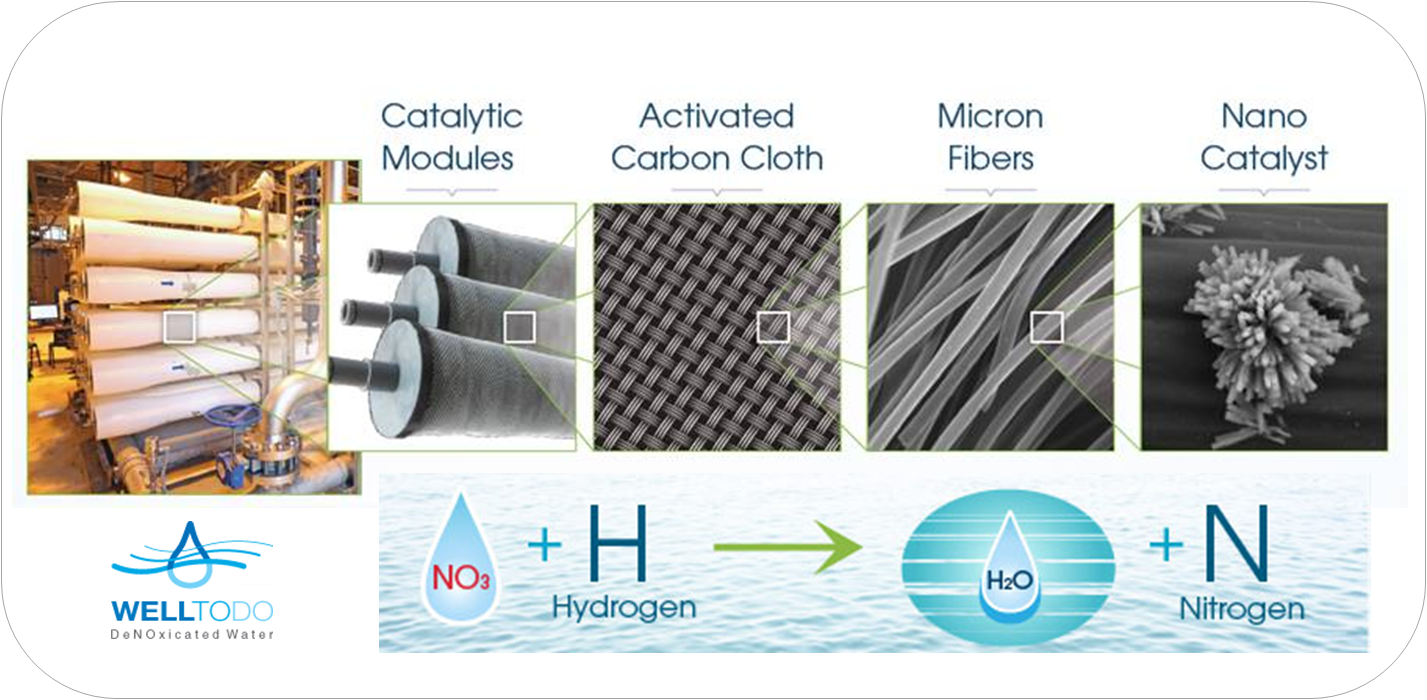 The technology developed by WellToDo removes pollutants from water. The most widespread pollutant in the world is nitrate, which pollutes roughly 10% of groundwater worldwide. This dangerous pollutant is lethal for babies, and therefore it is crucial to remove it from water. There are other technologies that remove nitrate from water, but they all leave by-products called concentrates –water streams polluted with a fivefold concentration of nitrate – an issue that needs to be addressed as well. "We've developed a system that creates a chemical reaction and transforms the pollutant into a non-hazardous form," explains Gilan. "We're currently focusing on nitrate, but our technology can work on various pollutants. For example, about two hundred wells in the Israeli coastal plain's aquifer are closed due to a high concentration of the pollutant. Our innovation is in utilizing a unique catalytic element that works as an accelerator of the chemical process where ultimately, the nitrate becomes nitrogen gas and unpolluted water.
"The presence of nitrate in water is the result of agricultural fertilizers, but nitrate is also present in industrial waste, in mines, in the gas industry, and in food factories. These entities need to pay attention to the nitrate problem when they spill their excess water to the environment and our solution is suitable for them as well," he describes.
Revolutionary Water Accessories for the Private Sector
SPC Tech, a water accessory company serving the private sector, is a graduate of the incubator as well. CEO Yoav Tomer explains: "We offer two revolutionary products. One product reduces pressure in residential water systems when water is not being used, mainly while people are asleep or are not at home. The product, which is fully developed and is ready to be manufactured, offers a solution for leaking and bursting pipes that result from home water systems being continuously kept under high pressure.
"The second product combines various accessories, for example pressure regulator, filter, check valve or softeners into one central point, usually in a rotary ball valve at residential or apartment entrances. This unique concept saves much needed space and minimizes plumbing and installation costs. Our prototype is in final development stages, and needs to undergo a series of trials to begin routine manufacturing.
"At the same time, we're negotiating with several major global companies, with the objective of integrating our developments into their basket of products," summarizes Tomer.
These companies' success stories demonstrate the significant contribution of global partners to the development of early stage companies operating under the umbrella of the OCS's technological incubators.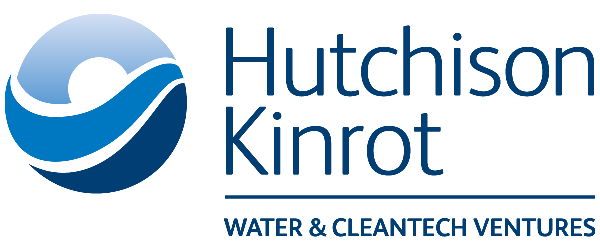 Hutchison Kinrot
Shareholders: Hutchison Water
Fields of Investment: Cleantech technologies
Incubator Manager: Roy Wiesner
Address: 8a Hatzoran st., Poleg Industrial Area, Netanya
Phone number: 972-74-7136666
Email: info@hutchisonkintrot.com
Website: hutchisonkinrot.com